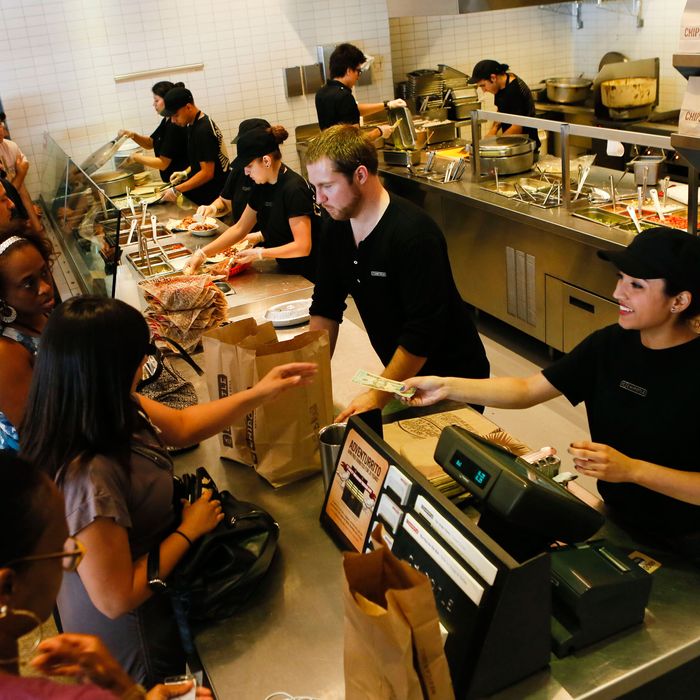 Wait — these people do not look sweaty at all.
Photo: Bloomberg /Contributor/Getty Images
If you're going to quit your job at Chipotle, you probably don't really want to compare working conditions to an actual sweatshop in the process, but that's what some management and crew did today when they resigned from the fast-food outlet's location at Penn State University. The move forced the restaurant to temporarily shut down in the process, and some employees have since met with a regional manager to air their grievances. Chipotle corporate, in the meantime, said it was a "minority of the staff" that actually quit — reports suggest four managers left the restaurant — while a larger number of workers are "enthusiastic to return to work."

A former manager tells Onward State, a student newspaper, that the problem was that just six to eight workers were routinely budgeted for busy shifts that actually required 13 or 14, and the chain's corporate office provided little assistance. The constant understaffing resulted in "workers doing 10-12 hour shifts without any breaks to eat."
Here's the sign posted by the workers:
Deplorable work conditions are just that, of course, and being asked to work long shifts with no break is awful. But maybe "heinous" isn't the best way to put it in an age of more egregious labor violations worldwide. In any event, it sounds like a resolution is just up ahead.
"We just felt neglected," the manager tells Onward State. "I'm not trying to take down the Chipotle corporation, I just want to see people treated better. We're not trying to start a strike or anything like that."
[BI, NYDN, Onward State]