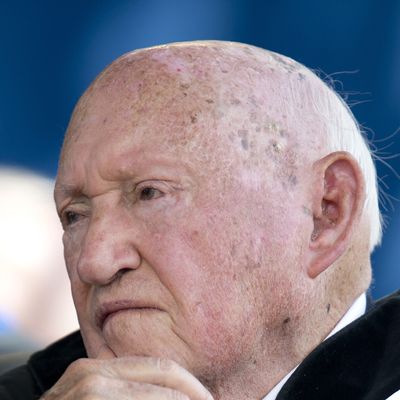 He was 93.
Photo: Jim Watson/AFP/Getty Images
S. Truett Cathy, the man who, as Chick-fil-A's founder, invented the chicken sandwich but not the chicken, died last night at home, his family said in a statement. He was 93.
Cathy built one of the nation's largest fast-food chains — over 1,800 locations in 40 states, soon to be about a hundred more — out of the Dwarf Grill, a tiny joint he and his brother opened near Atlanta in 1946. The spot took off thanks to its signature chicken sandwich, and by 1967 Cathy had the world's first Chick-fil-A.
As founder, S. Truett Cathy helmed the company until 2001, at which time his son Dan took over as president and chief executive. Always arguing that Chick-fil-A musters more business in six days than the rest do in seven, Cathy, a lifelong evangelical and billionaire to boot, enforced a companywide closed-on-Sunday policy, "a day for family, worship, fellowship or rest" that makes for a relaxing weekend, if nothing else.
While Cathy's views were as conservative as his son's, it's recently been Dan's public pronouncements about gay marriage that have brought the company unwelcome attention, even citywide bans — views that "[don't] necessarily represent" those of employees or customers, the company says, as it's tried to tidy up its image. Cathy is survived by a large family, including 37 grandchildren and great-grandchildren.
[AP]