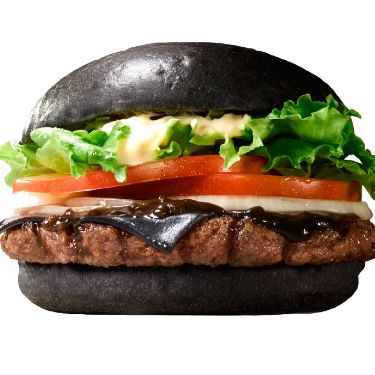 This one is the showroom model.
Photo: Burger King Japan
This is the day of reckoning for Burger King Japan's Kuro Burger, otherwise known as that thing with the black cheese, dyed-black bun, and squid-ink-powered onion-garlic sauce that became the fast-food media sensation of the year. Alas, the hamburgers people have been served so far seem considerably less delicious-looking than the ones in ad, as seen here.
"This is black enough to be bored to death," this one says, of the all-black, entry-level "Kuro Pearl."
バーガーキングの「まっ黒バーガー」はこってりテリヤキバー… http://t.co/DbuoVqvoM8 pic.twitter.com/gLkx7BHvrm— かとう ひろまさ (@hogemewujoka) September 19, 2014

バーガーキングの黒バーガー。味はまぁ普通。 pic.twitter.com/hZpYjvUv9E— NYAGORO (@nyagoro2001) September 19, 2014

And here's a close up shot of my friend's black hamburger at Burger King in Osaka, Japan :3 pic.twitter.com/JJES5jn0ry— Kallisti (@Kallisti) September 19, 2014

I ate the burger. pic.twitter.com/0qH55ih1vc— Aaron Patterson (@tenderlove) September 19, 2014


The "Kuro Diamond," otherwise known as the same hamburger with all the fixins, doesn't look like it really worked out, either.
バーガーキングの黒バーガーダイヤモンド。闇のブラックダイヤとはこれだったのか! pic.twitter.com/qpdUrRoyRZ— 船木屋紫一 (@Funakiya) September 19, 2014


As far as the taste goes, most reactions so far to the limited-edition burger have been planted more or less firmly on the good-to-not-bad spectrum, and there have been isolated reports of a mysterious "peppery" flavor. Mixed martial artist Urijah Faber says it tastes "like a school lunch," which isn't really an endorsement, but does sort of suggest these maybe could catch on in the U.S. after all.
Related: Burger King's Newest Japanese Burger Is Covered With Black Cheese
Related: Why Japanese People Aren't Grossed Out by That Black Burger King Burger [Science of Us]