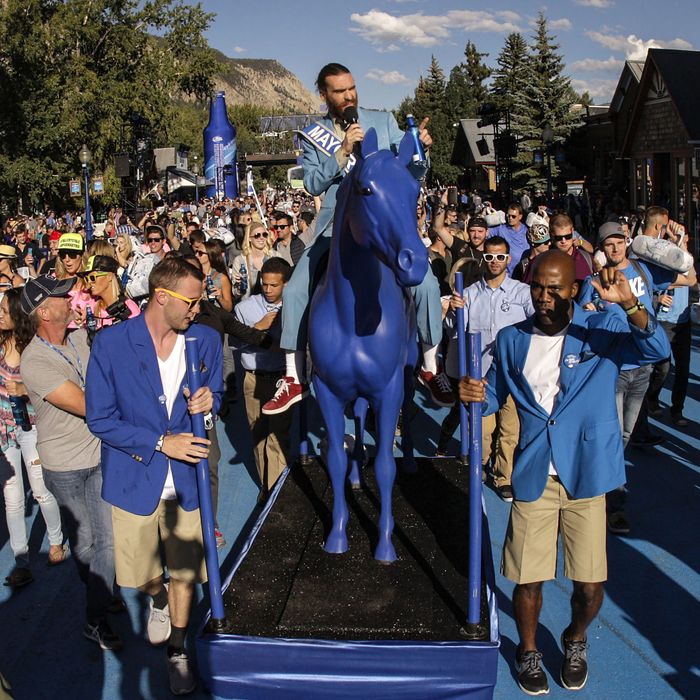 That blue horse did not make it through security, needless to say.
Photo: Nick Tininenko/Getty Images
The people of Crested Butte, Colorado, always had a bad feeling about Budweiser's three-day takeover of their town, which through copious amounts of "Bud Light blue" paint would become "Whatever, USA." The TV commercials were alarming, and then signs started promising "It's about to get really weird!" but you have to assume morale improved a little once Jay Z stopped by, the beer flowed freely (even if it was only one kind), and no one got arrested. But that was before everybody tried to leave.
The Denver Post says attendees encountered "serious hindrances" when 1,100 of them, flying on several days of free beer, simultaneously went to catch chartered jets home. Travelers were delayed and stranded at the airport; the security lines grueling. The TSA says it got a call Sunday afternoon once it became clear private security "could not keep up with their screening requirements."
Town authorities stress that except for this airport backlog, everything else went off without a hitch, although those clairvoyant locals dispute this, too, posting complaints to social media about wristband shortages so dire that there were calls to "revolt" by tearing down Bud Light fences. Authorities, meanwhile, made out like bandits financially, even if they're left chafing at how Budweiser has basically looked at the logistics snafu and shrugged, "Whatever."
Earlier: Small Town Isn't So Sure It Wants to Host Giant Party for 1,000 Bud Light Fans
[Post]