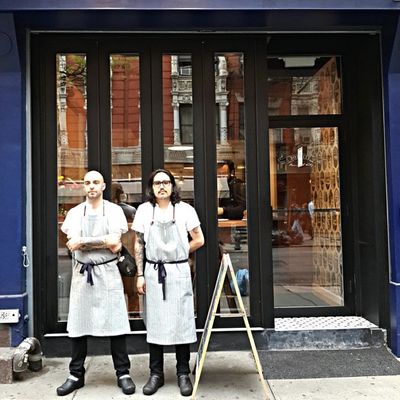 Chefs Dave Gulino and Justin Slojkowski
Photo: Courtesy of Box Kite
A 300-square-foot, St. Marks Place coffee shop is an unlikely home for a tasting menu that includes fried reindeer lichen. The situation becomes even stranger when said "restaurant" can only seat 12 guests per night, and the kitchen is eight-by-eight feet. But chefs Justin Slojkowski and Dave Gulino never expected their food at Box Kite to be such a hit — especially among critics — and now they've decided to part ways and pursue their own independent venture. Slojkowski tells Grub that September 20 will be their last night of service at Box Kite.

"Originally, when we signed onto consult for them, we were supposed to design a food program that you could replicate," Slojkowski says. "But Box Kite wants to open three more coffee shops. And because the tasting menu took over everything, it's not like we can consult on three more of those kinds of menus. It's grown into its own thing, and we want to expand on it."
Slojkowski and Gulino were in talks to open a separate restaurant with the owner of Box Kite, but now, they're close to finalizing a deal with a different investor. They're eying a specific new space in the East Village — one that's much bigger and includes a 20-seat bar that faces an open kitchen.
But Slojkowski says, regardless, he wants to preserve Box Kite's sense of intimacy: "The cool thing at Box Kite is that we get to talk to the guests, like bartenders do," he says. "It's an environment where no one feels rushed. We definitely want to have a restaurant where the sweaty chefs are handing you food and talking to you about it. So much better than a runner! I've never understood that."
If things go according to plan, Slojkowski and Gulino will open their follow-up venture in November. But, of course, that's rarely how it works in the restaurant industry, so in the meantime, the chefs are planning to host pop-up dinners throughout the fall.
The fate of Box Kite is up in the air, too, though there's a chance that Slojkowski and Gulino will stay on in a consulting capacity. "They've done a lot for us, so we want to help them figure out a bar program that will work in such a small, weird space," Slojkowski says. "It feels like a breakup, where you're still best friends."