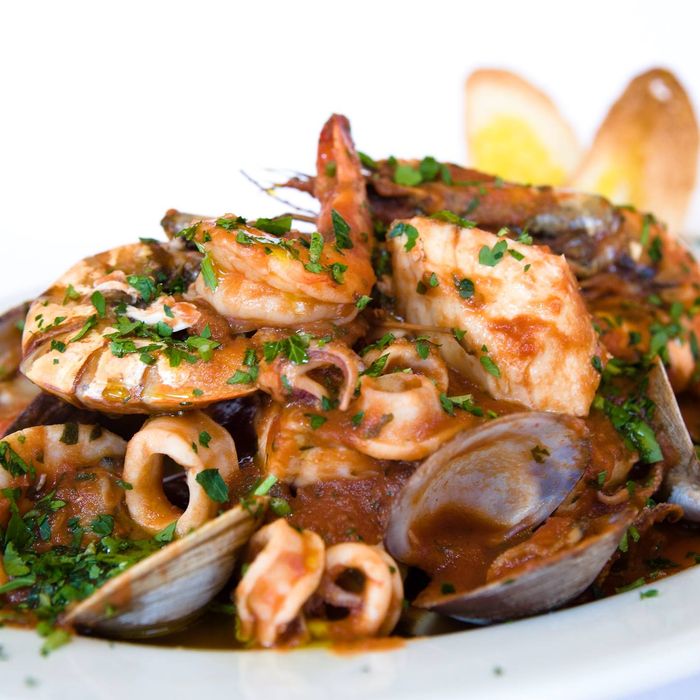 A real one-star cioppino.
Photo: Botto Bistro/Facebook
Botto Bistro, a Bay Area Italian restaurant that gives zero fusilli about its standings on Yelp, has now turned to asking customers to trash them with one-star reviews, all in protest of the site's alleged ability to manipulate rankings. How this will look to Yelp users who aren't in on the joke isn't clear, exactly, but so far it's working: 83 of its 148 reviews now give the fewest stars on offer. The complaints stay pretty tongue in cheek, however: "My food arrived before I wanted it to come. It was too hot to eat. It brought back all kinds of terrible memories of eating in Italy," and "I can only give this place one star. To do otherwise would show them disrespect."
Chef and co-owner Davide Cerretini says he respects the concept of Yelp, "but the blackmailing thing is ferocious," referring to the site's policy of shuffling around good and bad reviews in exchange for advertising, a practice the Ninth Circuit U.S. Court of Appeals just ruled legally defensible. Cerretini is committed to taking away "the only power" the social-networking site has. "I'm going to be one of the most unreliable restaurants," he says. After the launch of the Hate Us on Yelp campaign, which offers discounts and cooking-class giveaways, an annoyed Yelp sent Botto Bistro a cease-and-desist noting it's "received complaints from the community that you may be offering incentives in exchange for reviews" that violate Yelp's terms of service.
Cerretini's reply? He said he's "received complaints from the community that you may be removing reviews in exchange of vague explanations to loyal customers," violating Botto's terms of service as well. "I'm surprised we are still around on the site," he adds.