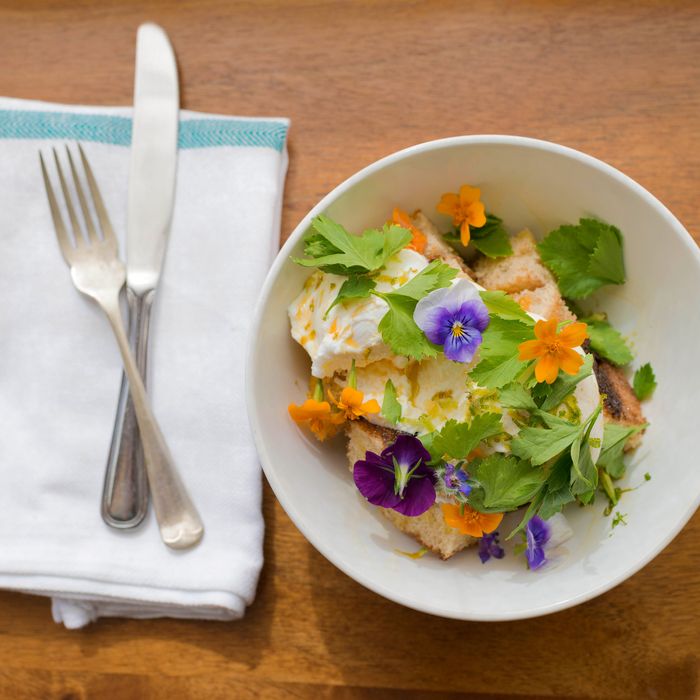 The signature dish of poached eggs over avocado with yogurt, lardons, croutons, lime vest, fresh herbs, and housemade chili oil.
Photo: Jersey Walz
In Hudson, New York, roughly a two-hour drive from Manhattan, there's a café that more or less embodies everything a person could want from a weekend-retreat coffee shop and bakery. In fact, Bonfiglio & Bread is the kind of place that could hold its own against big-city contemporaries such as Black Seed, in Nolita, or Philly's incredible High Street on Market. Not only does the spot have a commitment to local produce, outstanding homemade bread, fantastic coffee, and the kind of rural, upstate vibe that feels like it's ripped from the pages of Kinfolk — it's also just straight-up cool.
As you'd expect from a small-town café, owners (and New York City expats) Gabriele Gulielmetti and Rachel Sanzone buy the highest-quality eggs and vegetables, brine their own pork belly, and bake dark, seedy breads like quinoa-multigrain in house (an organic miller in Vermont provides the flour). "Our motto is to get the best ingredients and not screw them up," Gulielmetti says. "We try not to coddle them." So, the menu changes daily, depending on what's in season.
But the partners manage to turn the fresh, simple ingredients into ever so slightly elevated dishes, like poached eggs over avocado with yogurt, lardons, croutons, lime zest, fresh herbs, and housemade chili oil; wild-mushroom toast served open-face with a sunny-side-up egg and mint on sourdough; and a burrata-and-white-anchovy sandwich with fresh greens on filone. The pizza is worth mentioning, too: light, bubbly, and crispy, it's like a cross between Neapolitan- and Roman-style pies (and it's actually made with baguette bread dough, not pizza dough). Even more appealing: Almost everything costs $10 or less.
The café itself manages to balance the earnestness of a country café with an urbane sensibility. It's open for breakfast and lunch, you order and pay at the counter, and there are only a handful of seats, so you end up chatting — or sharing food — with fellow customers. The entire space (retail plus food preparation) is 1,500 square feet. "We run a casual place, but we take food very, very seriously," Gulielmetti says.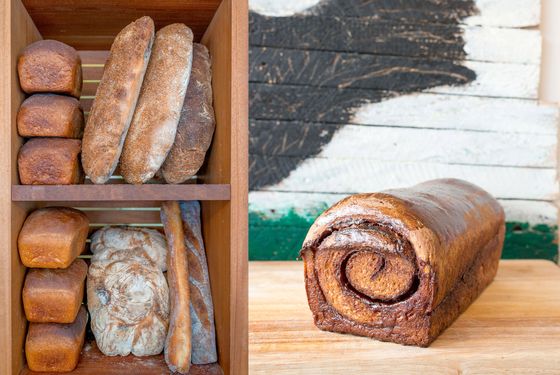 An assortment of loaves; sweet cinnamon-swirl bread.Photo: Jersey Walz
What's most surprising is that Gulielmetti and Sanzone have no prior professional restaurant experience: They're self-taught bakers and cooks. "I wouldn't call myself a chef," says Gulielmetti, who still works the overnight baking shift. "That's a high term."
Before moving to Hudson, Gulielmetti and Sanzone lived in New York City: Gulielmetti worked as a sculptor, and Sanzone studied history and worked on a biodynamic farm. When they moved upstate five years ago, they had no plans to open a restaurant, but then started "messing around." They tested their recipes by showing up to the Red Dot, a local bar, at 1 a.m. to give out free pear-cinnamon-swirl bread. "It started to catch on," Gulielmetti remembers. "And before we knew it, there was a line outside our home for people to pick up our breads." They turned their basement into a commercial kitchen, and restored two old, dirty pizza ovens.
Now, Gulielmetti and Sanzone plan to launch dinner service, and possibly take over the space next door. But that sounds about it for expansion plans: "There's always a desire to come back to the city, but that's something I don't think will happen," Gulielmetti says. "We don't have plans to open eight locations. We only want two places — we still love to bake and cook, and we want to do it all the time."