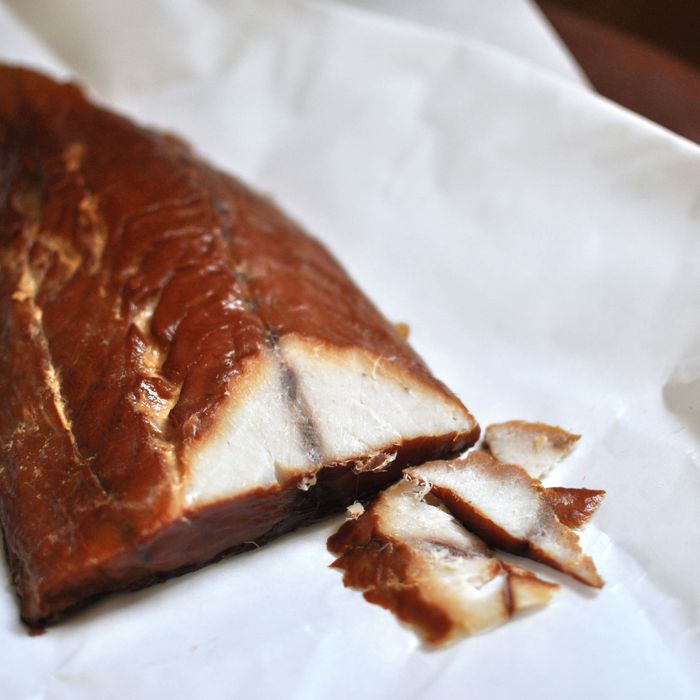 Smoked bluefish from Shelsky's, a bargain at $6.49 per quarter pound.
In this age of deluxe sushi counters and high-end oyster bars with composed, expensive plates like sea-trout carpaccio, there are, in fact, still some cheap seafood thrills to be had in New York. One of the best of all is right now at Shelsky's of Brooklyn, which sells peppered- and plain-smoked bluefish at $6.49 per quarter pound. Each chilled slice is a near-perfect composition of meat, smoke, salt, and fat — a preparation of a neglected ingredient that calls to mind, faintly, seafood barbecue. Call it the brisket of the sea. In fact, the occasional pin bone aside, Shelsky's smoked bluefish is also an ideal introduction to one of the most misunderstood fish to ever meet the sharp end of a fillet knife.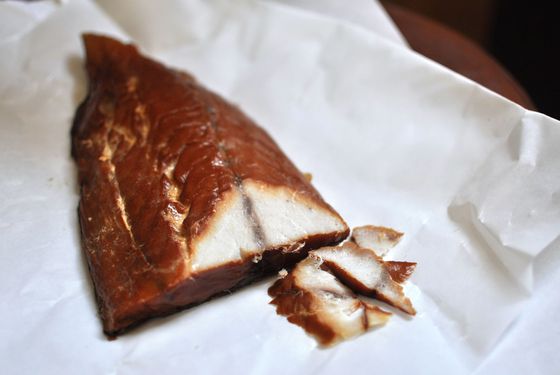 If you're from Long Island or coastal New Jersey, you probably grew up avoiding bluefish, even though it's plentiful in the area's waters. Bluefish is oily as hell, it has to be extensively prepped on the boat immediately after it's fished from the water (scaled, trimmed, bled-out, and cleaned — tasks typically done on land for other fish), and it can spoil ridiculously fast. Disdain for it goes all the way to the top: As recently as a decade ago, Eric Ripert said he'd never serve bluefish at Le Bernardin.
And yet, when done right, bluefish is meatier than tuna and sweeter than mackerel — it just takes a little work. Le Bernardin ban notwithstanding, many ambitious chefs will welcome the chance to transform an overlooked (and affordable) ingredient into an elevated experience. As far as early adopters go, a bluefish Livornese — pan-roasted with olive oil, oregano, parsley, tomatoes, garlic, capers, and Gaeta olives — first graced the menu at Long Island City's Manducatis in 1978.
But things really took off a decade ago at Esca, when chef Dave Pasternack abandoned all bluefish orthodoxy and began serving raw slices of the dark-pink meat touch with only a splash of Italian olive oil. It was the beginning of a bluefish renaissance. Today, Pasternack serves pristine slices of bluefish at Barchetta in shallow pools of olive oil topped with intensely flavored caper leaves, and he's the hardly the only chef who's caught on to bluefish, which is in season right now. Here are a few more places that could, and should, change the mind of even the most stubborn bluefish hater:
Momofuku Ssäm Bar
Ssäm Bar began serving a bluefish sandwich in 2010, and it's gone through several iterations coinciding with Long Island's fishing season since then. Matt Rudofker's current prep involves a quick dredge through blackening spice, and sear on the plancha, tucked into a formidable sandwich of toasted ciabatta, miso mayo, shredded iceberg, chips, and the restaurant's cucumber vinegar pickles. The restaurant also serves a pickled broccoli salad, topped with duck skin crackling and dressed with smoked-bluefish vinaigrette.
Marco's
Owners Francine Stephens and Andrew Feinberg, along with executive chef Danny Amend, take an old-world, rustic approach. They buy from Gabe the Fish Babe out of Rhode Island. The skin-on fillets are grilled until around 90 percent done, and the fish is rested hot on a panzanella made from toasted miche, indigo rose tomatoes, sweet summer onions, dill, basil, Zinfandel vinegar, and olive oil.
Mile End
There's smoked bluefish in the Caesar dressing at Mile End in Brooklyn, and a smoked fish sandwich with Fresno chile relish at Mile End in Manhattan.
The Cannibal
The fact that bluefish gets paired with Baltic rye and onion at the Cannibal is a reminder of the kinds of assertive flavors bluefish can stand up to. It comes in a glass jar and is listed, appropriately enough for such a meaty fish, alongside deep cuts of charcuterie like pig's-head terrine and pork-liver mousse.
Berg'n
Bluefish pâté makes an elegant bar snack at Pizza Moto's outpost at the new Crown Heights beer hall and food vendor complex, where it's served with pizza biancha.
Runner & Stone
The chefs at the Gowanus bakery and restaurant give bluefish an old-school deli treatment, putting it on a seeded rye sandwich with horseradish and cream cheese. It's served as a thick spread on an open-face and sliced round, garnished with a sprig of dill and pickled red onion. If lox on a bagel with a schmear is president of NYC's smoked fish sandwich contingency, this one should be its running mate.
Delaware and Hudson
Patti Jackson, who has done much to restore the dignity of Pennsylvania Dutch scrapple with an un-ironic version, dolls up house-smoked bluefish with greens, radishes, and crème fraîche.
Okonomi
Long Island bluefish are given the nose-to-tail, or mottainai treatment at the 12-seater in Williamsburg, where chefs Yuji Haraguchi and Tara Norvell serve a set breakfast consisting of greens topped with dashi-splashed soft tofu, pickles, a cube of custardlike tamagoyaki, and a cut of bluefish, usually a slab of belly meat, that's gently cured in sake lees. Haraguchi has also been known to serve bluefish tartare with slivers of nori and sesame and yuzu sauce, and bluefish collar when he breaks down whole fish.
And yet, the smoked variety at Shelsky's is a great place to start, and it's a nice way to extend the bluefish season, which for some local waters ends in just a few weeks. Once you get the fish, take it home and get the sharpest knife you have. Cut the thinnest slices you can muster and enjoy. Like great brisket, you can serve it with onions and bread and sauce on the side, but it's really just good enough to eat by itself.