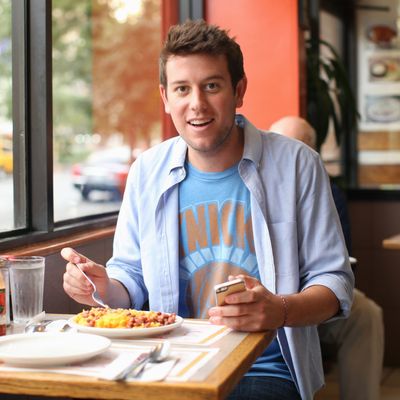 Lyons, at La Caridad 78.
Photo: Melissa Hom
Ben Lyons made a name for himself by covering entertainment news for MTV and E!, and now he's juggling several gigs: He's a correspondent on Extra, as well as the host of both an ESPN radio show and Yahoo's film-focused web series. And yet, this week, the ever-busy Lyons — who splits his time between New York and L.A. — also found time to stop at his favorite Cuban-Chinese restaurant on the Upper West Side, eat Mexican food several times, and feast at his favorite Chinese restaurant, Shanghai Grill. Read all about it, straight ahead.
Thursday, September 11
When I'm in New York, oftentimes the only way I can see my parents is if I wake up and have breakfast with them. I had some bran flakes and blueberries and solved the world's problems with my folks before heading out to work. My little sister, Hannah, is the sous-chef at St. Anselm in Brooklyn, which just happens to be one of the best restaurants on the planet, and where I ate the night before.
After knocking out two ESPN podcasts with Jessica Chastain and Bryan Greenberg, I headed downtown for a business lunch with my friend Leland. She put me on to a great Mediterranean-meets-Middle Eastern spot called Balaboosta. We talked shop over a clay pot of fish and some fried olives. I had a glass of wine at lunch because it made me feel European.
Meetings at Golf Digest, with my accountant, a fly-by at Extra, and then I got hungry for a snack. I met up with the photographer for this story for some rice and beans at one of my favorite restaurants, La Caridad 78. Ask for Clement. Not only does he know his oxtail, sautéed chicken, and plantains, but dude knows his basketball too.
For dinner, I met up with my friend the Fat Jew to watch the Steelers versus Ravens game. We went to the 40/40 Club, partly as a joke, and partly because we thought they would have the new pineapple-flavored Ciroc that Diddy just dropped this week. Sadly, they did not, but we made do with several surprisingly acceptable turkey sliders and a few "Coco Losos," which is a drink made with Coconut Ciroq and pineapple juice.
Friday, September 12
I woke up Friday immediately regretting my attempts to be ironic the night before. I had an 11:30 a.m. flight back to Los Angeles, but before I left for the airport, I grabbed another small bowl of bran flakes and blueberries with my mom before she left for work. She's the best mom ever.
I knew the food options would be disgusting on the six-hour flight back west, so once I got to JFK, I had to grab something to go. I was left with two options: McDonald's or Balducci's? I opted for the goat-cheese-and-pecan salad from Balducci's, and a sack of gluten-free Pop Corners, because I'm not an animal.
That night, back in L.A., my girlfriend Mariah and I went to Gracias Madre in West Hollywood, a popular vegan Mexican restaurant, where they were quick to inform us that "every Margarita is skinny." The food was fine: cauliflower in cashew-nacho cheese, grilled peaches, and a mushy tamale. Not sure we need to go back anytime soon, though, as there are taco trucks on La Brea and Venice that blow this scene-y cuisine out of the water.
Saturday, September 13
After a morning yoga class, we went to American Rag on La Brea. I ordered a caprese sandwich and added grilled chicken. Not the best, but also not the worst. Also, who knew a bottle of Pellegrino was $8?
I spent the majority of the afternoon at home watching college football, and then met Mariah and my friend Budish for a birthday at a spot called Zinque — this Americanized-millennial European-themed hang-out that's filled with babes and dudes who don't watch college football on Saturdays chasing babes. We shared a charcuterie plate and lots of rosé because that's one of my favorite things to do, and apparently rosé season never ends.
For dinner, a bunch of us rolled from Zinque to Tyrese Gibson's house, where he was throwing a party for the Mayweather fight. I thought there would be about 25 to 30 people there. It turns out there were 700. Tyrese built his own Benihana-style restaurant in his backyard called Gibsi-Hana. Let me repeat myself just in case you didn't absorb the cultural importance of that last sentence: Tyrese built his own Benihana-style restaurant in his backyard. My friend Jonny rocked a tuxedo because he was so excited to eat at Gibsi-Hana. We ate fried rice until the sun came up and it was magical.
Sunday, September 14
I do football Sundays in L.A. at Goal. They have the best setup to watch all the games, and with the early West Coast start time, I get pretty fired up that I can eat breakfast and lunch in the same place without having to get up. I started the first game off with an egg-white scramble with grilled chicken, spinach, and onions, and two Bloody Marys. The Lions didn't cover the spread (no, I'm not a Lions fan, it's Fly Eagles Fly over here), so I ate my feelings and ordered turkey tacos and a Stella for the Jets-Packers game.
After a late-afternoon run to sweat out the demons, I went to Shanghai Grill in Beverly Hills for a dinner with the cast and producers of the scripted show I'm working on with MTV's Josh Horowitz. Basically, I try and eat Chinese food on Sunday nights, and most weeks I do. It gets no better than the back room at Shanghai Grill. Chicken and broccoli, fish in black bean sauce, vegetable lo mien … we did it big.
Monday, September 15
I spent all day on set, so a banana, a handful of Cheez-Its, almonds, and boxed coffee were my breakfast and lunch. After 14 hours of production, Josh and I treated ourselves to a nice dinner at Gusto in West Hollywood. Mariah joined us for some steaks, pappardelle, spinach, asparagus, and a bottle of wine. It hit the spot. I fell asleep six minutes after I got home.
Tuesday, September 16
My breakfast cooking skills are limited to scrambles and putting cereal or yogurt in a bowl. For some reason, I felt inspired, so I went to town on an egg-white scramble with mushrooms and onions and a copious amount of Cholula sauce.
For lunch, I had a meeting at Wexler's Deli in the Grand Central Marketplace. It was recently voted to have the best lox, bagels, and pastrami in Los Angeles. It's amazing. The place was packed, as always, but it was well worth the wait. My favorite sandwich is the "OG": pastrami on rye with mustard. No silly sauces.
There's no better date than dinner and a movie. Since I try to celebrate Taco Tuesdays every chance I get, Mariah and I went to a screening of This Is Where I Leave You, followed by $1 tacos at a cantina on Sunset. While the movie disappointed, the tacos delivered: carnitas, pollo, and even the vegetable ones were good. I'm proud of myself for refraining from eating too many chips and guacamole. There are few things in life that I love that much.