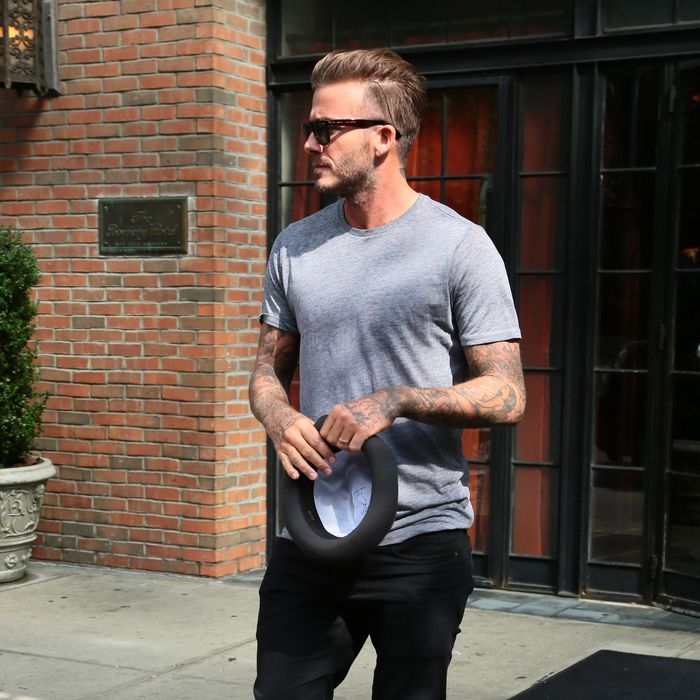 He went to Dover, too.
Photo: NIGNY/Splash News/Corbis
This week, fashionistas and tennis champs broke from Fashion Week festivities and the U.S. Open, respectively, to eat out in the city. Martina Navratilova celebrated her engagement to Julia Lemigova at Catch, the Beckhams partied at Salvation Taco, and pop star turned NYFW fixture Joe Jonas DJed at Queen of the Night and Up & Down. Read more, straight ahead.
Acme: Models Toni Garrn and Constance Jablonski reportedly "jump[ed] on banquettes." [Page Six/NYP]
Catch: The Meatpacking hot spot was packed with tennis stars, including Martina Navratilova (with new fiancée Julia Lemigova) and Andy Roddick. [Page Six/NYP]
Le Bilboquet: Nicole Kidman, Ewan McGregor, and Baz Luhrmann were among the guests at a dinner celebrating the reopening of Tod's on Madison Avenue. [Vogue]
Michael's: Meryl Streep had lunch with Ken Burns. [Page Six/NYP]
No. 8: Vanessa Hudgens celebrated a magazine cover. [Page Six/NYP]
Queen of the Night: Joe Jonas spun tunes at the Galore party, joined by model Gigi Hadid. [Just Jared]
Salvation Taco: David Beckham threw a party for wife Victoria. He also ate at Marea this week. [Page Six/NYP]
Scarpetta: Madonna dined with a "young man who appeared to be in his 20s." [Page Six/NYP]
Up & Down: Joe Jonas DJed at designer Richard Chai's party. [Page Six/NYP]
VIP Room: Chris Brown arrived with a "crew of five friends." [Page Six/NYP]
White Street: George Stephanopoulos, Lauren Bush Lauren, Robin Roberts, and Alan Rickman got a sneak preview of Floyd Cardoz's newrestaurant. [Page Six/NYP]