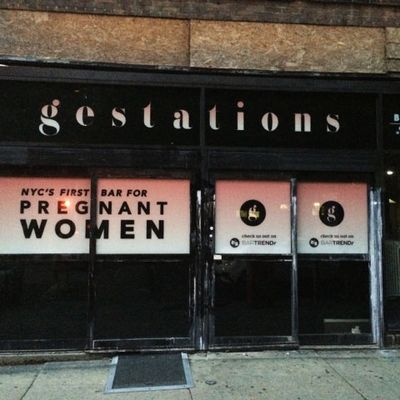 What fun.
Photo: Daniel Maurer
Over in the East Village, where any given proprietor's battle to score a liquor license can routinely rage for months at a clip, someone has brazenly put up signage and an application notice for Gestations, New York's "first bar that lets you drink for two." Call the listed number and you'll get a message advertising " trimester specials," and a clear hint that Gestations is apparently more about kamikaze marketing than actual Kamikazes. "Visit us on October 25 at 504 East Fifth Street before that water breaks," the message says.
All signs point to a quasi-elaborate hoax, of course, but confusing for a thing that facilitates real-life drinking: Signs for the fictional, unclassy bar for pregnant women also plug an app that has listings for nearby dives like Off the Wagon and Doc Holliday's. It's not clear what they're expecting, so to speak, but seeing as the city requires all establishments to post signs warning pregnant women about alcohol consumption, we're pretty sure that whatever kind of party organizers have planned for the end of October isn't going to end well at all.