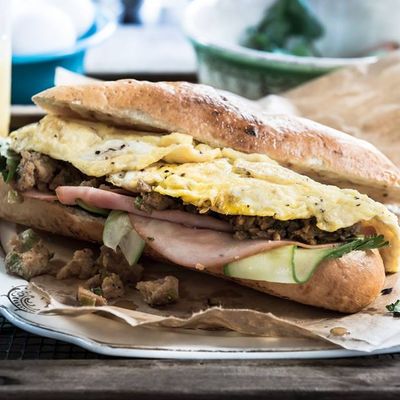 Still too early to know if the food's offensive.
Photo: Banh Shop/Facebook
For the past few days, Dallas's sizable Vietnamese-American community has made clear its distaste for Bánh Shop, the ambitious, bánh mì-centric fast-food prototype Yum! Brands opened up last week. Specifically, as numerous critics and at least one online petition made clear, the issue was with its red, five-pointed star logo, which invoked communist Vietnam's flag and color. Those who protested the logo said the company's choice was insensitive and "hurt and offended" the community, including refugees who had fled Vietnam in the 1970s.
Yum! Brands now plans some immediate changes in the single location's branding. Today the corporation's senior VP Jonathan Blum emailed Thanh Cung, who created the petition, with an apology. It read, in part:
It was never our intent to offend anyone, but we see we have made a mistake and in hindsight, we should have recognized this logo could be offensive. Therefore, and effective immediately, we are changing the logo and removing the red star from all materials and signage at the restaurant. That will happen by end of day today. We will design a new logo, and would greatly appreciate your reviewing it, along with other aspects of this restaurant, before we make a final decision. We hope that you can let us know if there are any other elements in the new logo or aspects of the restaurant that could be perceived poorly.

The star's already been scrubbed from the logo's website and social-media pages.
Related: People Are Not Happy With the 'Communist' Logo at Taco Bell's Banh Mi Offshoot
[DMN]