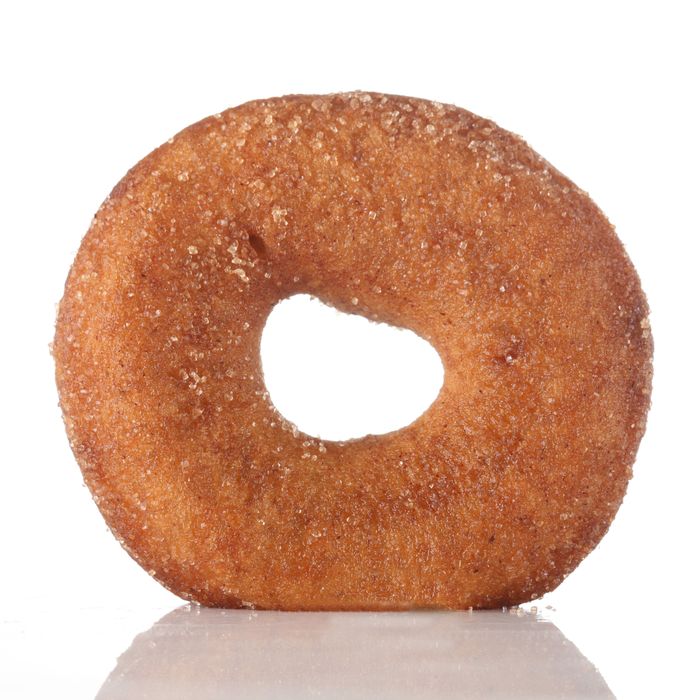 Carpe Donut's fresh-fried treat.
Photo: Melissa Hom
Sure, autumn means pumpkin spice (so much pumpkin spice), but it also means apple-cider doughnuts, the seasonal speciality that Grub Street most looks forward to. The ideal place to eat them is at a bucolic cider mill, watching the leaves turn colors, but the good news is that excellent cider doughnuts are also for sale at food trucks, bakeries, and Greenmarkets all over the city. Here are ten spots where you can sate your in-city cider-doughnut cravings.
Carpe Donut
Price: $2.25
This food truck, founded in Charlottesville, Virginia, debuted in New York last year, and made it into Cheap Eats 2013. Follow @CarpeDonutNYC on Twitter to chase down your next hot, fresh, fried-dough fix. Bonus: You can opt to turn your humble fritter into a FroDo, a doughnut sandwich with a scoop of vanilla ice cream in the middle.
Peter Pan Donut
Price: $1.10
This beloved Greenpoint standby serves up a predictably great version of the seasonal classic.
Terri
Price: $2.76
The vegan doughnut at this vegetarian, quick-service joint, with locations in Flatiron and FiDi, would be an ideal accompaniment to an afternoon cup of coffee.
Dough
Price: TBD
This Bed-Stuy bakery — with its first Manhattan location on the way — is launching a pear-apple cider doughnut in October. Exact price and availability are still be sorted, but as with all things Dough-related, you can be sure this will be a winner.
Breezy Hill Orchard
Price: $1
This Hudson Valley orchard has stands stationed at several of the city's Greenmarkets, meaning you can approximate a cider-mill trip in the city with its cinnamon-sugar doughnuts.
Jack's Stir Brew Coffee
Price: $3.50
The coffee chainlet is known for its organic, fair-trade coffees, but it also makes all of its cider doughnuts in-house.
Baked by Butterfield
Price: $3
For true health nuts: The vegan-cinnamon apple cider doughnuts at this Upper East Side Bakery are baked, not fried.
Doughnuttery
Price: $6 for six mini doughnuts
Located inside Chelsea Market, this shop serves its sugary cider fritters by the bagful, in either a tart mulled green apple, or a sweet red apple variety. Fancy!
Babycakes
Price: $3.95
The all-vegan bakery dishes out a cinnamon-flavored donut with apples dipped in a cider flavored glaze.
The Cinnamon Snail
Price: $2
The Vendy Award-winning food truck carries a cider doughnut year-round. The vegan specialities are made with local cider, fried in organic oil, and topped with cinnamon and sugar.