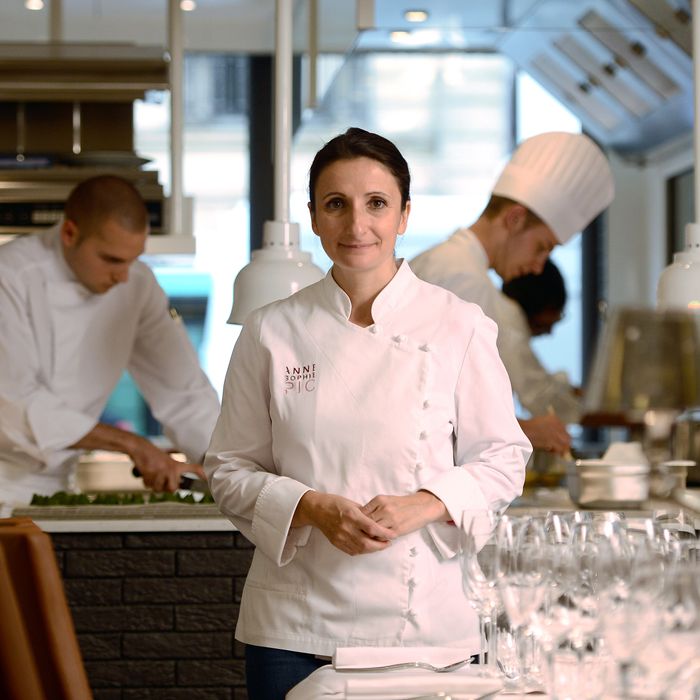 Anne-Sophie Pic's mini empire of restaurants in Europe will soon be fortified by two NYC openings.
Photo: Franck Fife/AFP/Getty Images
Today, you may have seen the news that Anne-Sophie Pic — the third generation, three-Michelin-starred chef who already has a mini-empire of restaurants bearing her name in Europe — will open two restaurants in New York. There will be the "relaxed yet elegant" dining room La Dame de Pic, along with the more casual Metcafé, appearing on the scene sometime next year at 510 Madison Avenue at 53rd Street. And while Pic doesn't have the same international name recognition of some other European chefs, Grub Street is very excited about this — in fact, Pic's arrival is some of the best news NYC's fine-dining scene has gotten in a long time. Here's why.

Pic's family business actually predates the Michelin guide — Anne-Sophie's great-grandmother opened a restaurant in southeast France in 1899, and it stayed in the family (moving at one point), until Anne-Sophie's father, Jacques Pic, eventually took it over and restored it to three-Michelin-star status in the early seventies (it had previously lost its stars way back in 1950).
But in 1992, Jacques died of a sudden heart attack at his stove, and Anne-Sophie was just 23. By 1995, La Maison Pic had lost its Michelin stars, and Anne-Sophie returned to the kitchen in 1997 with the intention of winning them back. It happened, though it took ten years. She opened La Dame du Pic in Paris in 2012. There, she told Food Arts, her aim is to "make a cuisine that is feminine and conveys emotion, but without being 'show off.'" She also opened Daily PIC, a fast-casual place, this summer. "I remember the sarcastic smiles in the corners of their mouths when I started out," she said, regarding her gradual ascendency.
Despite all this success, Pic still flies under the radar when compared to many other highly decorated international chefs. Professionally, she prefers to bill herself as a cook, not a chef; it also happens that she's not part of the often overpowering culinary culture that follows in the wake of symposium-jaunting geniuses like David Chang and René Redzepi, and while she doesn't sidestep the issue of gender in professional cooking, she seems to want to de-emphasize it (despite winning a "best female chef" award in 2011 from the World's 50 Best group). The introduction to her excellent 2013 cookbook merely suggests it "can be read as a manifesto of femininity."
Yet it is her food, not her backstory, that should be commanding the attention: Consider a dish of anchovies and caviar, with bright green matcha butter and leeks. Or the fresh morels stuffed with broad bean creamed fanned out on a plate with a steamed yolk in the center, with coffee sauce, and lardo-topped Melba toast on the side. Or the Gruyère soufflé with a hot hazelnut center and black truffle topping.
These dishes are not at all simple — the 2013 cookbook is virtually impossible to follow for home cooks — and that's the whole point. Pic's food has a reputation for being absolutely stunning and elegant while also being delicious. It's elegant and refined but it isn't necessarily tweezer food. With high-end, fine-dining restaurants on the wane in New York, the arrival of an internationally acclaimed chef at the very top of her game means there's a very good chance that we're going to get new options for serious and interesting fine-dining that aren't also overly pretentious. At least that's the hope, and for the time being that's reason enough to look forward to these restaurants.
[NYT]