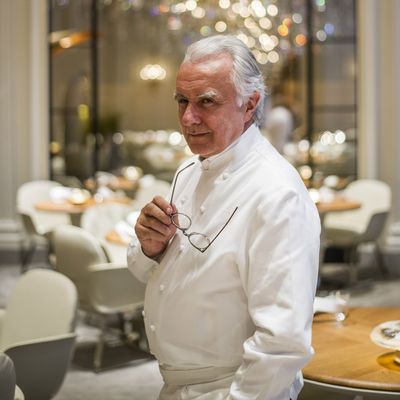 Meat's unethical and unequitable, says the chef.
Photo: Fred Dufour/AFP/Getty Images
For more proof that animal-derived protein is overrated, today we turn to Alain Ducasse, world's most Michelin-starred chef. His restaurant at Plaza Athénée (three stars before it closed) has been undergoing a massive face-lift, and he says when it reopens Monday, diners will notice it's pretty much gone meatless.
The new menu, reflecting what the chef calls "naturalité" — there's a tie-in cookbook, of course — will rely on vegetables literally grown at a garden at Versailles, a ritzy touch that no doubt helps justify the nearly $500 price, plus a few pescetarian options like black rice with shellfish and a bulgur–monkfish tagine. There just may not be a côte de bœuf, however, and other radical changes abound, such as dessert courses made without added sugar, and, elsewhere, red wine paired with the fish. Ducasse has already promised he'll begin championing the humble sardine, too, over French fine-dining warhorse fish like turbot.
[Guardian]