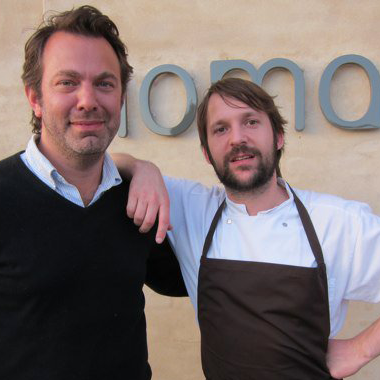 Adam Sachs (with pal René Redzepi) will take over the top spot on the masthead.
Photo: Courtesy of Adam Sachs
Saveur has always occupied a unique space among other food magazines: It has a much smaller audience than a title like Bon Appétit, yet it's never been nearly as niche-focused as something like the recently shuttered Food Arts. In fact, over its 20-year history, Saveur has more or less ignored trends and really just done its own thing: telling deep, elegantly written stories about what makes food so meaningful to people all over the world. In a way, it remains a throwback to a different era of food writing, and if you're a food nerd, you almost certainly have at least a few issues lying around somewhere. On Monday, it was announced that Adam Sachs — a venerable food writer and the current editorial director of Tasting Table — would become the magazine's next editor-in-chief. (If you follow any food writers on Twitter, you probably already know this because almost all of them, at some point, congratulated Sachs on the new gig.) Grub talked to Sachs about the new job, his plans for the title, how he wants to navigate the ever-tricky divide between print and digital, and what he thinks of people who can't pronounce Saveur properly.
First off, congratulations. I think it's pretty obvious, at least from the reaction to the news on Twitter, that people are excited for you and to see what you can do with the magazine.
Thank you. It's hugely exciting. It's a magazine that really turned me on to food. There's a ton of good will toward it, and it's one of those early leading voices that stands for quality and passion. To me, it seems like the most exciting opportunity in food media right now, because it is this established brand, but there's a chance to revitalize it and renew it a little. Keep the current audience happy, and engage with a new audience.
Well, what do you think Saveur, either as a brand or a magazine, can do more of?
Saveur's always excelled at the international side of things: following food to its source and making an adventure of that. That, mixed with the cross-pollination of local chefs and international chefs, everyone traveling more freely — everything is more accessible. So there's a lot to do with travel and — what Saveur's always done really well — seeking out the roots of cuisine. But I think there's a chance to broaden the scope and the readership, too. It was started as a magazine 20 years ago to be in contrast to what was beginning to be celebrity-chef culture, and if you look back at how and why they did that, it makes a lot of sense. But the world of eating and drinking has changed a lot since then, and it's hard to imagine a more exciting time to be covering this world, so there really is an opportunity to expand on what they're doing while keeping to the core mission of what Saveur's all about.
Amid all the grim print-media news, Saveur's circulation is up, ad pages are up — do you think that's the result of it being more of a niche magazine instead of a broad title that's trying to be all things to all people?
Yeah, I think when you look at the magazines that are doing well, they're telling a cohesive story across all the platforms. And a lot of the ones that are thriving are — I don't want to say "niche" because that's too narrow — but they are about a certain thing with a certain self-identifying audience who has the means to travel or to be thinking about cooking. It's not necessarily all about luxury, but it is a luxury to be thinking about what you're eating, and cooking well, and traveling to eat. The legacy print brands that are doing well are ones that are in a luxury market.
Beyond the magazine itself, you work within both the print and digital worlds. You edit Tasting Table, but you regularly write print features for major magazines. How do you see Saveur's print and digital sides working together?
I think you can touch on the same stories, but how you engage with them is different. A magazine is tactile. It's physical; you can roll it up, bring it on a plane; you can read it in bed — there's something very intimate about that. It's true of tablets, too, but there are ways to make the two worlds work in unison that magazines haven't really embraced. There can be a dialogue between the two so they don't feel like two separate products. Right now with food magazines and their websites — and it's true with all legacy magazines — the tone is different and the products don't match up very well. In the real world, if you're a print subscriber you're also someone who wants to check in on your phone or your tablet. So having the two work in tandem together is a goal. Food magazines have had a little trouble figuring out their websites. They tend to be a recipe search engine with a blog attached to it, and I don't know if that's the future. I think we can make Saveur the digital product a little more interesting.
Do you give much thought to the competition? Do you worry about what other food magazines are doing and how they're navigating the changing media landscape, or do you just focus on what you can do at Saveur?
I think the first goal is to make Saveur, across all the platforms, as engaging, beautiful, constructive, fun, and relevant as it can possibly be. I don't want to run a magazine that's in reaction to something or one that defines its role in terms of what other people aren't doing. On the other hand, it is a competitive field, and there's room for everyone. On a personal level, I love what my friends at Bon Appétit have done. They've raised the bar, so the challenge there is to figure out what we can do better — finding what is true to the Saveur brand and developing its voice.
Since you brought up Bon App: You and Adam Rapoport and, now that I think about it, [Food Network Magazine editor-in-chief] Maile Carpenter all worked as food editors at Time Out New York — coincidence that you're all editors-in-chief now?
You're talking about the World Domination League? Yes, this was all planned back in 1997. It's a little mind-blowing that we were all there, actually, but I think the thing about working at a weekly magazine is that there's no end to the number of stories you can cover, so you're always engaging with the food and restaurant culture. Learning to embrace a beat and trying a million different ways to slice and dice the topics you have to cover week in and week out, that probably does train you in a certain way to think about food as a topic.
Last question: Does it bother you now when people don't know how to pronounce Saveur?
I don't care how people say it as long as they come to the site and read the magazine.
Earlier: Saveur Names Adam Sachs New Editor-in-Chief
Related: Why Food Arts Closing Is a Major Loss for People Who Love Restaurants