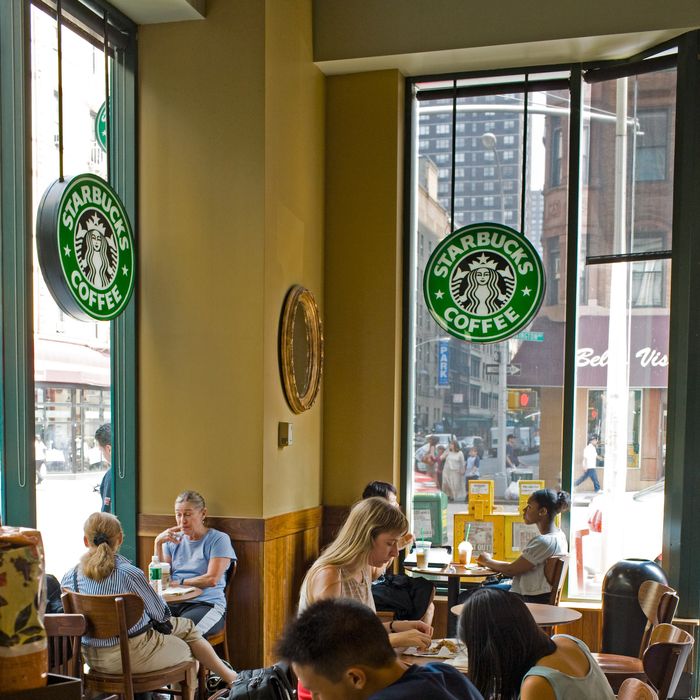 That's one way to stand out from the competition.
Photo: Stefano Amantini/Corbis
Though plans are in place to bring small plates and merlot to "thousands of stores" overall, only 30 Starbucks stores out of 20,000 currently pour beer or wine, so it's a big deal, maybe, that the coffee chain has confirmed it's seeking a liquor license for its next Williamsburg location. "Just as every customer is unique, so are our stores and we consider a broad range of products and services for each location," a spokesperson explains, noting tentative plans also include bringing in pricier "reserve" coffee.
The push to serve alcohol is obviously a move on the chain's part to siphon business away from the area's restaurants, just as the whiff of fancier beans is aimed at the neighborhood's cafés; the expanded menu in general is part of Starbucks's long-term growth strategy. But given the lackluster response to Williamsburg's first Starbucks, it's doubtful that its next store represents a serious threat to the competition on either front. The North 7th Street Starbucks may end up being, however, the only place where you'll be able to score a secret, off-menu Pumpkin Spice Latte-flavored chardonnay.
Starbucks goes part-bar for second Williamsburg foray [Brooklyn Paper]
Related: Williamsburg's Next Starbucks Will Serve Beer and Wine