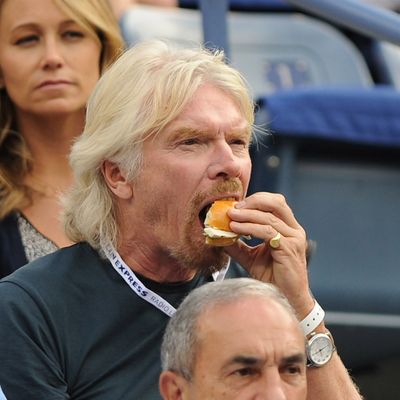 Richard Branson is into it.
Photo: Splash News/Corbis
Big changes are afoot, food-wise, at the U.S. Open, which starts today. For all those who were attuned to last year's offerings, you'll be familiar with returning concessions players include Tony Mantuano of Spiaggia, Masaharu Morimoto, and perpetual empire builder David Burke, who are serving things like burrata, raw fish, and Burke's "bacon on a clothesline" at the various sit-down venues. The rest of the concessions are pretty different, and are blessedly heavy on the sandwich options.
Acclaimed Mexican chef Richard Sandoval is cooking carnitas and chicken tacos (three for $13) and Mexican corn ($6), and this year Pat LaFrieda has his own booth, where he's added a $14 meatball hero in addition to a filet sandwich, which runs $16.
Mario Carbone and Rich Torrisi's Parm joins the fray this year with a two-sandwich menu at Heineken House. One is a hero laden with provolone, peppers, and cold-cuts ($15), while the more spartan "Godfather" is pressed garlic bread with mozzarella and tomato ($12).
Finally, and also on the grilled-cheese front, Glady's restaurateur and Morris Grilled Cheese proprietor Michael Jacober scores an honor getting the Open's first-ever food truck. For the duration of the tournament, he'll serve an original cheddar ($10) and a more dressed-up version ($13), made with truffle butter, caramelized onions, and shallots, outside Court 17.