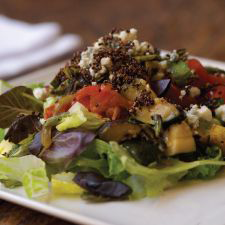 The Wednesday special: farmers' market salad from Ocean 41.
Photo: Courtest of Uber
Uber very desperately wants in on that billion-dollar food-delivery market, but every PR strategy it deploys to announce this — ferrying burgers to Oaklanders, commandeering Mister Softee trucks — tends to register seriously high on the gimmick spectrum. A seemingly more earnest move in the GrubHub direction starts today, however, with UberFresh. The idea: For $12, cabbies will bring you your lunch.
Uber says that while hum-drum "food delivery takes 45 minutes to 1 hour," its Flash Gordon version "delivers you healthy, fresh food in about 10 minutes." There's no tip or delivery fee, but the fine print is that there's a really confined scope. The program is available in Santa Monica for now, only on weekdays until September 5, and the menu is super limited. You can have lunch in ten minutes, sure, if you want to eat the one thing Uber will deliver to you, a daily special that's either a salad, sub, or soup, with a cookie thrown in for free. And before you even begin fretting over the eventual possibility of $35 surge-priced chicken-noodle soup, just remember you have to walk out to the curb when the driver arrives.
Hungry to Happy in Under 10 Minutes [Uber]
Uber Trials Fast Food Delivery Service "UberFRESH" [Forbes]