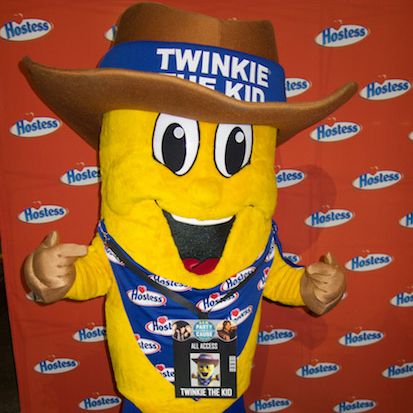 He's still smiling, and that's what matters.
Photo: Hostess/Facebook
Hostess celebrated its post-bankruptcy revival a year ago with a big relaunch and festive new box depicting a triumphant Twinkie the Kid atop a decapitated pastry, but that eight-month hiatus from store shelves may have been more detrimental than anyone thought: The company announced it will shut down its Continental Baking Company plant in Schiller Park, Illinois — where the world's first Twinkies were produced — by October. "Many competitors took over the shelves and are tenaciously defending their business and thus we must be highly efficient and technologically advanced to compete," says Bill Toler, the company's chief executive, explaining that it's hard out there for a Twinkie.
The closure affects an estimated 400 workers who have reportedly been working grim-sounding "12-hour days in two shifts" to keep up. Recent efforts in next-gen Twinkie tech include making them smaller, covering them with chocolate stuff, and dyeing the cream filling hot pink. Toler says that continuing efforts to overhaul its snack-food-manufacturing procedures will protect the company's "ability to compete" against the likes of Little Debbie and knockoffs sold by retailers like Walmart.
Original Twinkies Factory To Close; Company Blames Impostors [Consumerist]