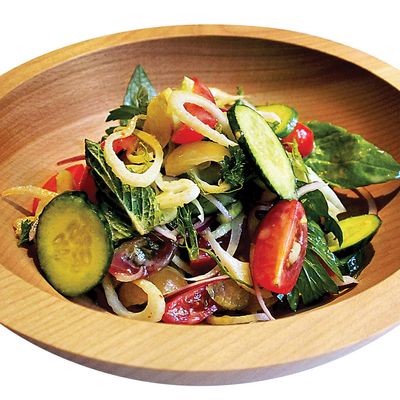 Cucumber-and-radish salad.
Photo: Cassandra Rose Tannenbaum/New York Magazine
If we didn't know better, we might consider Mario Carbone, Rich Torrisi, and Jeff Zalaznick's yet-to-be-named Renzo Piano glass-box restaurant at the High Line an act of penance for the gastronomic excesses of their two-year-old Thompson Street restaurant Carbone. The words the partners are using to describe the menu, you see, are light and healthy and coastal Italian. Coming from the mouths of the creators of the practically Guinness-record-size veal parmigiana, these words sound strange and slightly disorienting. "There will be a huge emphasis on fish and vegetables," says Zalaznick. "And almost no meat."
Why? Because while researching the history of the area, the team discovered two things: (1) The location was once the coastline of Manhattan before landfill expansion, and (2) if you go back 100 years or so, it was a farmers' market. Yes, they considered doing a steakhouse, but ultimately it didn't feel right. So instead of rib eyes and T-bones, count on whole grilled porgy with grapefruit giardiniera, house-cured anchovies, zucchini carpaccio, and lobster Catalan. Cocktail guru Thomas Waugh's drinks will follow the breezy coastal theme, and the 50 outdoor seats (in addition to the 100 inside) should serve as a fine setting in which to knock a few back. The goal is to create a neighborhood place where locals and High Line stompers can go for breakfast or lunch and return for dinner. "You can't eat lunch and dinner at Carbone," says Zalaznick. "You'd fall over."
820 Washington St., at Gansevoort St.; 212-254-3000; Oct.
*This article appears in the August 25, 2014 issue of New York Magazine.