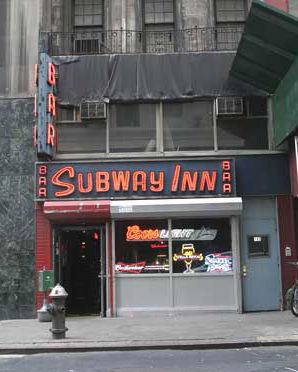 The famous dive bar turned to a crowdfuding campaign earlier this month.
Photo: Carmen Lopez
Subway Inn, the 77-year-old Upper East Side dive bar that faces demolition to make way for an incoming block of luxury condominiums, temporarily prevailed in court yesterday when a civil court judge suspended the eviction process and granted the Salinas family a temporary restraining order. In a statement, the dive bar's co-owner Steven Salinas says the development was "just the first step."
On behalf of entire Salinas family, we cannot express the immense gratitude that we feel for all New Yorkers that stood up and joined our fight to save our home. Yesterday's New York City's Civil Court decision, which granted a temporary restraining order and ceased all eviction proceedings comes because of the hard work and determination of a group of New Yorkers and Lawmakers that aren't afraid to stand up for what is right. We know that this is just the first step in a very long and hard David Vs. Goliath Fight; however, we are confident that in the end justice prevails and the Subway Inn will be spared from the wrecking ball.
The bar is currently engaged in an Indiegogo campaign to help spread to word of its attempt to remain open on the spot, and its owners have reached out to Mayor de Blasio in an attempt to persuade Landmarks Preservation intercede on their behalf. Little has changed at the bar, including its iconic neon signage, for decades.
Real estate developer World-Wide Holdings Corp declined to comment on the development, but a previously issued statement makes its position clear. "The bar's closing should not come as a surprise," it said, adding that its plans to build on the site have been public knowledge for eight years.
Judge halts eviction of old-time dive bar Subway Inn [WPIX]
Beloved New York bar wins reprieve from wrecking ball [Reuters]
Related: Subway Inn Is Fighting Its Imminent Eviction With a Crowdfunding Campaign