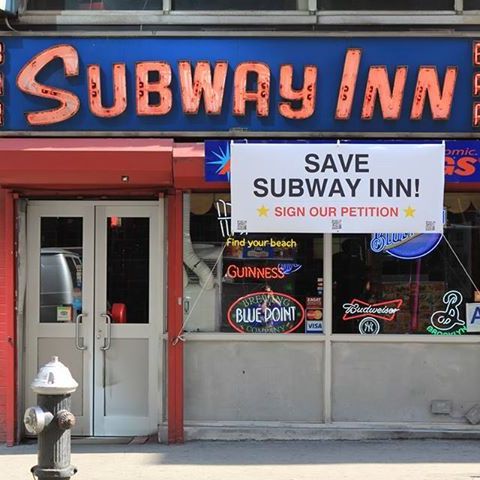 Where have you gone Joe DiMaggio indeed.
Photo: Subway Inn/Facebook
While its struggle to remain in operation is far from over, things are looking positive for the 77-year-old Subway Inn for the second time in ten days. The famous dive bar is due to be evicted in advance of the demolition and redevelopment of its decades-old home on East 60th Street, but had been given a reprieve of sorts last week when a judge granted the Salinas family a temporary restraining order against real estate developer World-Wide Holdings Corp. Now, following an ambitious crowd-funding effort to spread word of the establishment's plight and personal appeals made to Mayor de Blasio and Landmarks Preservation officials, it looks like Subway Inn will keep pouring domestic pints for the time being.
World-Wide Holdings Corp. has been trying to evict the bar since 2006, when Subway Inn was operated by a different proprietor. "The bar's closing should not come as a surprise," it said in a statement released earlier this month, noting Subway Inn's operators had agreed to and signed year-long leases with 30-day termination options for the last eight years. The developer's warrant of eviction contained inaccurate information.
In a statement posted online this afternoon, co-owner Steven Salinas thanks New York City Councilman Dan Garodnick and State Senator Liz Krueger for their support, along with Landmarks Preservation. Here's the full text:
Statement from the Salinas Family Regarding Today's New York City Civil Court Decision to Stay Eviction of the Legendary Subway Inn

On behalf of the entire Salinas family, I would like to applaud Civil Court Judge Jennifer Schecter for her heroic decision earlier today, which for the second time in less than 10 days, stayed all eviction proceedings against our family business. I would also like to take this opportunity, to once again thank the thousands of New Yorkers who have signed our petition and have sent us notes of encouragement to help my family stay strong through this very trying ordeal.

What my family has learned through this struggle to save our business (which has been in our family for more than 4 decades) is that this fight had struck a nerve in the heart of many New Yorkers. This is no longer a fight JUST about my family and our livelihood, it is about saving the character and charm of Olde New York by preserving our building, which has served both famous as well as everyday day New Yorkers proudly for more than 77 years.

We also would to commend the work and support of the New York City's Landmark Preservation Commission, Councilman Dan Garodnick, and State Senator Liz Krueger for standing behind our fight and their willingness to meet and help us as we continue to try to save this treasure.

Thank You,
Steven Salinas
Sign the bar's online petition or check out its Indiegogo campaign here, or better yet, stop by for a beer tonight.
Update [Facebook]
Related: Judge Temporarily Halts Subway Inn's Eviction Proceedings