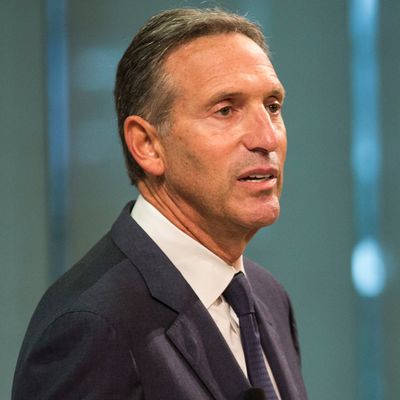 Howard Schultz
Photo: Andrew Burton/Getty Images
In a new posting on its website, Starbucks once again denied online rumors that allege the coffee company and/or chief executive Howard Schultz provide "financial support to the Israeli government and/or the Israeli Army." The page, called "Facts About Starbucks in the Middle East," was first posted in 2010 but updated last week. Among the other points it makes, the fact sheet reminds the public that the company hasn't sold coffee in Israel for the past 11 years.
A spokesperson won't say where the company believes the persistent rumors are coming from, but one likely source is Buycott, an app that specializes in user-created campaigns. One current campaign targets the Israeli-owned company Sabra, and there are more than 240,000 signatures from people protesting the coffee chain for its purported support of "the occupation of Palestine."
While Schultz has previously expressed strong opinions on same-sex marriage and open carry, Starbucks's fact sheet says the company ceased operations in Israel more than a decade ago because of "on-going operational challenges" in the regional market, not because of the geopolitical climate. "We do not make business decisions based on political issues," it wrote.
Facts About Starbucks in the Middle East [Starbucks Newsroom]
Starbucks: We don't fund Israel [CNN Money]