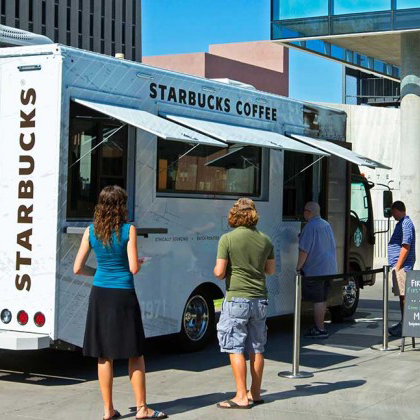 Will there be a Pumpkin Spice Latte jingle?
Photo: Courtesy of Starbucks
It's been a big news week for Starbucks: The company revised its erratic scheduling policy, continued its push to serve booze, and, today, announced the introduction of coffee trucks on college campuses. Arizona State University, James Madison University, and Coastal Carolina University will all serve as test sites for mobile trucks, operated by food-service company Aramark. It's only a matter of time before Starbucks trucks start tailing you everywhere you go, tempting you with a siren song of a Pumpkin Spice jingle.
The ubiquity of Starbucks is nothing new, but in New York, it seems like the twin-tailed mermaid is now everywhere you look: This summer, the company opened an outpost in the former Bleecker Street Records space, invaded Williamsburg, and announced a second Williamsburg location. Don't be surprised if Union Square Café or wd~50 become Starbucks, too.
Starbucks Coffee Trucks Will Follow Zonked College Students Around Campus [Bloomberg Businessweek]