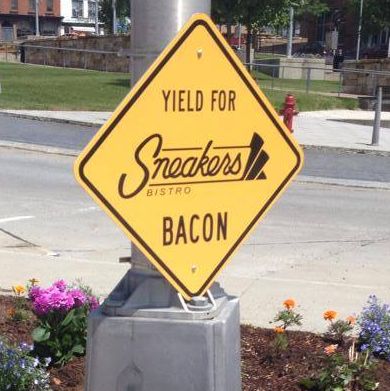 First they came for the Hollandaise sauce.
Photo: Courtesy of Sneakers Bistro
A restaurant called Sneakers Bistro in the small Vermont town of Winooski (population 7,239) thought it would promote its morning menu and capitalize on that whole bacon-craze thing by posting a cute, diamond-shaped sign emblazoned with the words "Yield for Bacon" on the lamp post near the municipal flower patch it had sponsored. This was a very bad move, it turns out.
As a sponsor of the city's beautification efforts, the bistro had been given permission to post a sign advertising its participation. According to reports, a local resident complained about the sign on a community message board, writing that as a Muslim she found its message objectionable. (There's also an indication that its official-looking appearance mimicked a genuine street sign at the busy traffic circle and could be considered a safety hazard.) Sneakers, which notably made it onto Esquire's "59 Best Breakfast Places in America" list in 2012, wanted neither to offend nor to cause fender benders, so it "proactively" took the sign down.
After an obligatory Breitbart article cross-posted to FOX News gave news of the incident much wider circulation, commentary shifted to general hate. "[Y]ou should be investigated by the FBI for collaboration with radical Islam," wrote one Yelp user in Indianapolis. "Seriously though, I hope you go out of business for the cowards that you are. Now I'm off to eat some real bacon," wrote another who was seemingly under the impression that Sneakers removed bacon from its menu in altogether instead of just taking down a sign advertising it. Thank goodness the opposition has an entire shopping mall's worth of novelty bacon lip balm, bacon soda, bacon salt, bacon alarm clocks, bacon wallets, bacon vodka, bacon Band-Aids, bacon chocolates, and more out there to buy and remind them of their patriotism, or something.
The restaurant's next step isn't clear, but its five-star rating is now ruined, and shortly before its proprietors took their Facebook page down, they posted this message: "We are here to serve people BREAKFAST, not politics. We removed the sign that was located on public property as a gesture of respect for our diverse community. … We still love bacon. We still love eggs. Please have the political conversation elsewhere."
Advertisement Removed After Resident Expresses Offense [WPTZ]