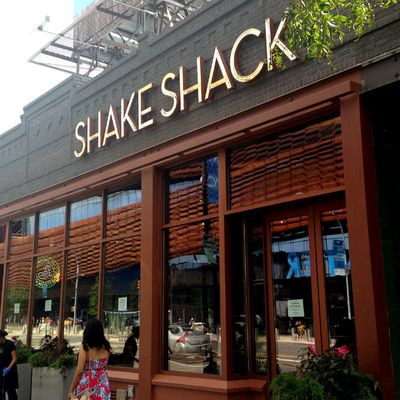 The Barclays-area Shack has a "Nothin' but Nets" custard.
Photo: Courtesy of Shake Shack
Yesterday, Shake Shack opened its Flatbush Avenue location near Barclays Center. In addition to its borough-themed "Fudge-eddabouitit" and "Brooklyn Pie Oh My" concretes, the former of which is made with Mast Brothers chocolate, and the latter with Four & Twenty Blackbirds pie, the new location is serving another called "Nothin' But NETS." It was created expressly for the location, per Shack custom, and consists of "chocolate and vanilla custard blended with marshmallow sauce, crispy crunchies, and chocolate sprinkles."
The continued, steady expansion of Danny Meyer's hamburger chain is practically a given by now. Dumbo got its first Shake Shack in June, just as the original location was wrapping its week-long, truffle- and shrimp-patty-studded 10th anniversary celebration. There are also rumblings that Shake Shack will open next somewhere off the L train, even if the chain is still playing coy. "We're huge fans of Williamsburg, but at the moment we don't have anything concrete to share," a rep told Grub last month.
Let's do this! [Official site]
Related: Shake Shack May Next Be Headed to Williamsburg