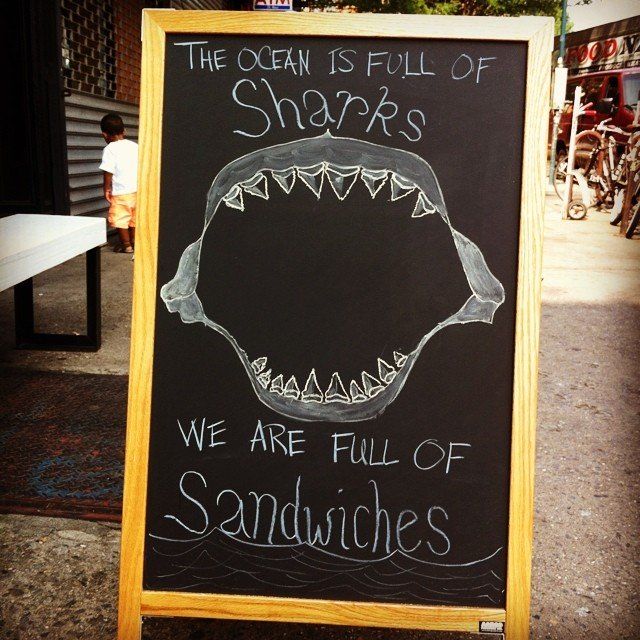 Never stop swimming, Saltie.
Photo: @saltieny/Instagram
We're fans of the Captain's Daughter and the Clean Slate, two sandwiches of several more served at Caroline Fidanza's tiny Williamsburg spot Saltie, so we were bummed to see on Instagram that the chalkboard stationed out front at the sandwich shop somehow ran afoul of the city. "The ocean is full of sharks, we are full of sandwiches," it reads, along with a drawing of a gaping shark's maw. What, if anything, is so offensive about that?
Apparently the chalkboard itself, not its message, was cited by Department of Sanitation yesterday for violating a rule that seems to exist expressly to thwart independent businesses trying to attract customers in commercial areas. "You are only allowed to use 18" of space extending from your storefront. Any sandwich boards or planters beyond that are illegal," Fidanza writes, explaining that that her board happened to extend past the allotted 18 inches. In a time of stratospheric rents, citations like this one can cost up to $300.
"I was given a ticket a few years ago because there was garbage in the street," Fidanza writes, "[in the gutter area] where the street cleaner passes over. It's another example of how NYC supports their beloved small business owners."
The ocean is full of sharks, indeed.
Saltie/Instagram [Official site]