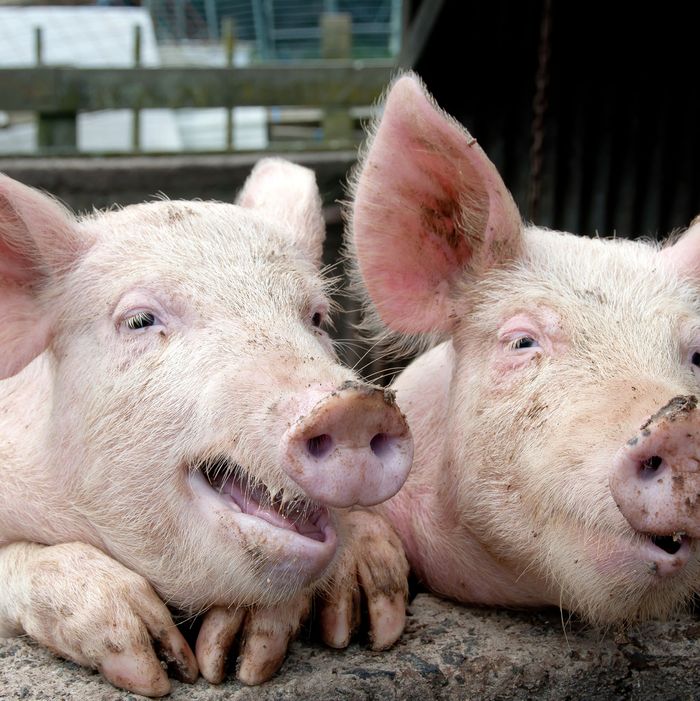 These pigs are done with tetracyclines.
Photo: Shutterstock
Today author and former Times food critic Ruth Reichl pens a strongly worded op-ed about her dismay over a U.S. Circuit Court of Appeals in New York 2-1 ruling last month, which essentially left the Food and Drug Administration with the ability to continue allowing the use of antibiotics in animal feed. Despite clear signs that the practice is bad for animals and increasingly lethal for people, drugs like tetracyclines are still doled out to pigs and cows that aren't sick, just because it makes them grow much faster and makes production entirely more profitable. The net effect of all that, Reichl writes, is just unhealthy.
This isn't an elitist opinion coming from the former Gourmet editor: The FDA itself declared the so-called subtherapeutic use of penicillin a threat in 1977, identified 17 other drugs that could have catastrophic effects on human health starting in 2001, and last year even moved to reduce the estimated 30 million pounds of antibiotics used annually on animals raised for meat by pushing a set of voluntary industry guidelines.
The same drugs that accelerate growth also have the somewhat-nasty effect of mitigating infections that arise by packing lots and lots of chickens or pigs into tightly cramped quarters, perpetuating the system and a lot of cheap meat. "This practice breeds antibiotic-resistant bacteria that threaten us all," writes Reichl, calling the agency's most recent guidelines "toothless."
She's also hopeful, and points to developments in Europe and continued growth of "responsible producers" who supply meat from free-roaming animals raised without antibiotics. Moves toward better meat on the part of chains like Chipotle and Panera are also good signs, she writes, and "proof that as we vote with our wallets and our roasting pans, producers will rise to meet us."
The F.D.A.'s Blatant Failure on Food [New York Times]
Related: FDA Determined Livestock Antibiotics Were 'High Risk' a Long Time Ago