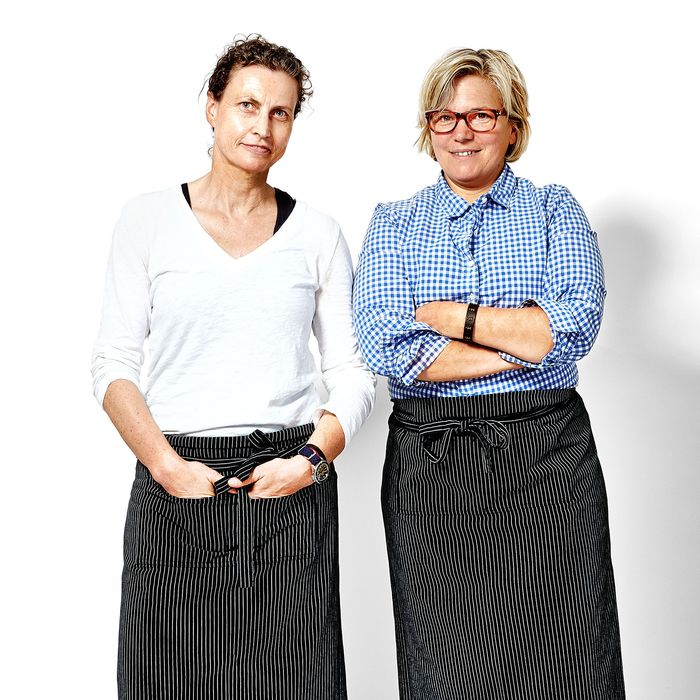 Rita Sodi and Jody Williams.
Photo: Bobby Doherty/New York Magazine
"If I find myself running a 75-seat 'restaurant,' I will have done a disservice to this community," says Jody Williams, chef-owner of Buvette and sworn enemy of most established restaurant conventions, from phone numbers and reservations to impenetrable hostess stands and tyrannical menus. Williams, who has exported her casual, all-day, wine-and-small-plates, don't-call-it-a-restaurant gastrothèque concept from the West Village to Paris, with Tokyo and Stockholm in her sights, loves the idea of eating and drinking what she wants, when she wants. She also loves cooking — especially in the company of her partner, Rita Sodi, whose classic Italian food at the nearby Tuscan restaurant I Sodi Williams fell in love with, even before falling in love with Sodi herself.
Next month, the couple will team up on their first professional partnership, a homecoming of sorts for them both. Via Carota, named for the street in the Tuscan village of Bagno a Ripoli where Sodi once lived, is as much a spiritual invocation of her 13th-century home and heritage as it is an Italian take on Williams's Gallic gastrothèque. (The street was named for the architect who built the house, but it also happens to mean carrot — hence Williams's nickname for the place, Carrot Street.) Italian is a culinary lingua franca for both women: Williams, a California native, learned to cook by knocking on restaurant doors in Reggio Emilia and Rome and has run New York kitchens like Il Buco, Giorgione, and Morandi, while Sodi, a former fashion executive, absorbed everything she knows from her mother. Despite their different paths and personalities, the two self-taught chefs share a love of simplicity and seasonality and a reverence for ingredients. Via Carota will be inspired by tradition but subject to spontaneous appetite, and will be open all day long, like Buvette, from early morning Counter Culture coffee and cornetti to evening aperitivi and cocktails.
"I want to have a restaurant where you always can sit down and have a choice, where you don't feel awkward, like, 'Gee, I really want to eat two salads, is the waiter gonna freak out?'" says Williams. "I don't care what you do. Come on in. Call your friends. Have them squeeze in." And the food? "I want to do classic grilled chicken," says Williams. "We love artichokes, we love frying, we'll be making focaccias. Fried zucchini flowers. All the things I love about Italian food." There is even talk of a burger — a first for both chefs. "I want this to be fresh and light and I want it to be savory and I want it to be hot and spicy and I want it to be everything I don't find," says Williams. "And if I want to make potato pancakes one Sunday brunch, I get to do it."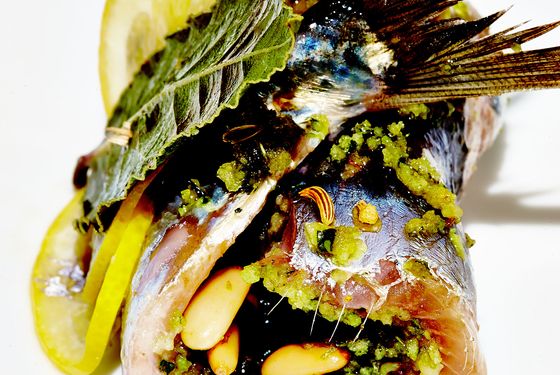 Via Carota's sardines with bread crumbs, raisins, pine nuts, and lemon.
Photo: Bobby Doherty/New York Magazine

Roasted squab, farro, sage & pickled fruit.
Photo: Bobby Doherty/New York Magazine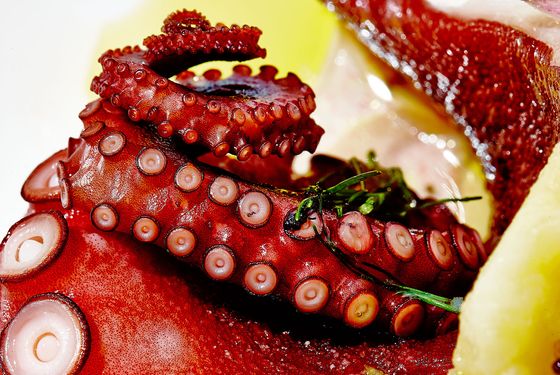 Octopus, red onion, potatoes, and oregano.
Photo: Bobby Doherty/New York Magazine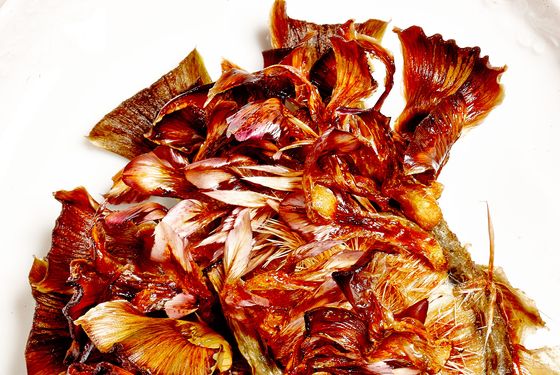 "We love artichokes, we love frying," they say, hence the carciofi alla giudea.
Photo: Bobby Doherty/New York Magazine

51 Grove St., nr. Bleecker St.; viacarota.com; Sept.
*This article appears in the August 25, 2014 issue of New York Magazine.