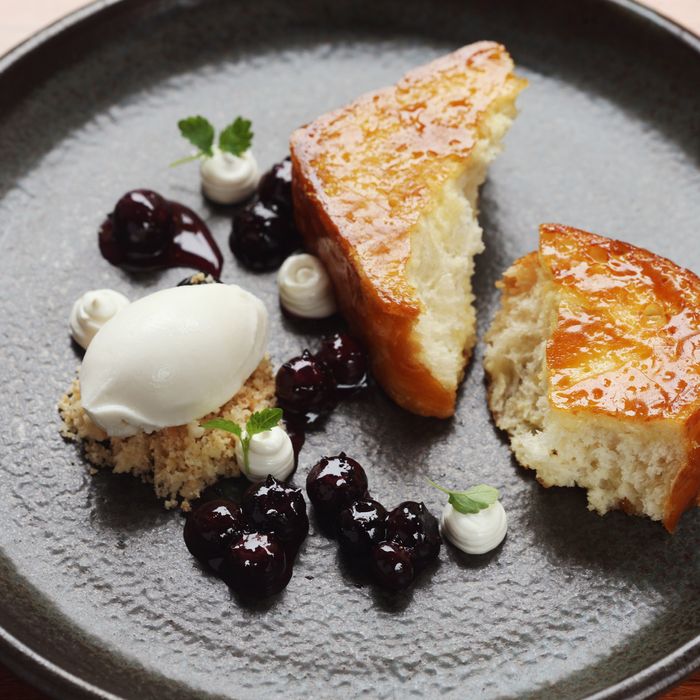 Bâtard's caramelized milk bread tastes as it good as it looks.
Photo: Melissa Hom
This week, a few critics visited the second iterations of restaurants: Robert Sietsema enjoyed Wilma Jean and Nightingale 9, which both moved to new (nearby) locations; Stan Sagner reviewed newly reopened Blenheim, with chef Ryan Tate at the helm; and Zachary Feldman visited El Vez (Stephen Starr's second outpost of the Philadelphia-based restaurant). Read it all, straight ahead.
Pete Wells traveled to Las Vegas, and dined at a few great restaurants "off the eaten path": for starters, Sweets Raku, a Japanese restaurant in a shopping plaza — with tofu "as rich and fluffy as ricotta" and a "tender kurobuta pork cheek that made me think all the pork-belly worshipers are eating the wrong end of the pig." Across the plaza is Kabuto, which offers exceptional sashimi, and, also off the strip, Chada Thai & Wine, where the "menu is shorter than Lotus's, the portions more dainty, but the cooking struck me as more exact and polished after one meal at each." He also enjoyed Carson Kitchen, Eat (particularly the biscuits in strawberry sauce), and Honey Salt. On the other side of the spectrum, he had some harsh words for Giada De Laurentiis's namesake hotel restaurant.
Ryan Sutton is the latest critic to praise Bâtard, writing that it "ranks as one of the year's most enjoyable and approachable new restaurants, turning out playful riffs on modern European-American fare." He loved the schnitzel, the octopus terrine, and a deconstructed Linzer torte, but wasn't so keen on poached oysters and the rabbit bouillabaisse (a "one-note hare"). And to end the fine-dining meal, order the marzipan cookies, which are topped with almonds. Two stars.
Zachary Feldman reviewed Stephen Starr's El Vez, and he did not find much to like. ("Take the tlayuda, a pizza-like disc of crisped masa, which on one visit bore an unfortunate resemblance to the Play-Doh nightmares of a maladjusted kindergartner.") The service felt rushed, the clientele is banker-heavy, and the desserts are geared toward children. But if you do end up there, the enchiladas are your best bet.
Robert Sietsema visited the new locations of Wilma Jean and Nightingale 9, and he was very pleased with the latter's take on Vietnamese food. Fried frogs legs "glistened in the sunlight … a Vietnamese answer to Buffalo wings," and main courses like pork hock bahn canh, "bathtub-size bowl of soup," are a total steal. Sietsema's only gripe is that he wishes the restaurant would reopen for lunch. He also stopped by Rob Newton and Kerry Diamond's Wilma Jean, trying the "superb" $5 fried-bologna sandwich and a "perfectly cooked" bacon cheeseburger. It's a quick meal — under 30 minutes — and it seems like it might be better suited for take-out, but Sietsema would "heartily recommend" the restaurant.
Blenheim has reopened in the West Village, with chef Ryan Tate at the helm, and according to Stan Sagner, it's a "is a stealth — but very worthy — rival to the city's current farm-chic temple, Blue Hill." Tate skillfully pairs fish with coffee-roasted carrots, cuts the fattiness of foie-gras torchon with dehydrated cherry tomatoes, and pairs English pea dumplings with "perfect" "faux bacon" bits. Service is a bit "coy," but the excellent bread and dessert courses make up for it.
Steve Cuozzo enjoyed Claudette, which is "as orderly as it is pretty." He suggests starting with the "soft, warm flatbread, offered with powerful pistou and tapenade spreads, [that] cues simple but well-executed pleasures to come." The chicken's "moist, dark meat" is a better option than the pasta ("lost in a monochromatic, buttery blur,") but don't skip desserts like a two-layer pistachio cake. Cuozzo also offered a few words on Antonioni's — a place with a décor that "lovingly evokes a lost era with neither kitsch nor Carbone-like overkill." But he found that last week, "the kitchen murdered the cuisine." Beware.
Joshua David Stein dined at Cafe El Presidente, which "probably has more in common with the Nacho Libre set (100 Universal City, Universal City, CA, for those interested) than an actual market one might find in Oaxaca." He liked how calm and unhurried the restaurant was during breakfast and lunch service, and tasted a "light and graceful" taco al pastor and a special shrimp taco. The food isn't really authentic, but it's pleasant in the morning, for juices and empanadas.