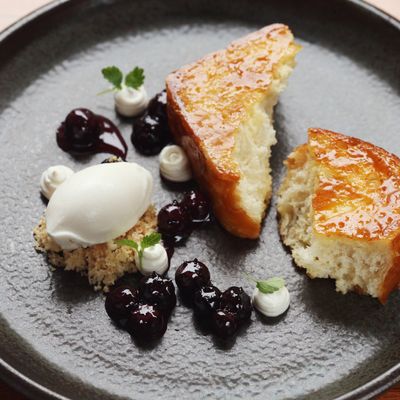 Bâtard's caramelized milk bread is a huge hit.
Photo: Melissa Hom
This week, the Underground Gourmet dropped New York's Fall Preview issue, and there's a lot to look forward to: Team Torrisi's High Line restaurant, Alex Stupak's Empellón al Pastor, Enrique Olvera's Cosme, Mu Ramen, a collaboration between Jody Williams and Rita Sodi, and 36 other new restaurants. Meanwhile, the other critics reviewed Bâtard, élan, and more. Read it all, straight ahead.
Pete Wells awarded chef Markus Glocker's cooking at Bâtard three stars, writing, "The complexity of Mr. Glocker's plates never blurs the focus of his flavors. Every drop of sauce and pinch of seasoning extracts some new pleasure out of the main ingredient. There is joy in his cooking." Wells also likes how Drew Nieporent has revamped the former home to Corton. Even desserts, like caramelized milk bread with berries and brown-butter ice cream, are excellent.
Amelia Lester also reviewed Bâtard, and, like Wells, loved the caramelized milk bread. "The aggressively relaxed dress code and clubhouse-like atmosphere take nothing away from the sophisticated northern-European food — if anything, it feels just right for now to serve a serious three-course meal, at relatively gentle prices for the neighborhood, without a tablecloth," she writes. "Memories of dishes lingered for weeks afterward."
"Let's get right to the meat of matter: Root & Bone serves New York's best new fried chicken," Ryan Sutton says. He's also a fan of "kick-ass classics" like thyme-topped biscuits (but warns to avoid the deconstructed BLT and the fried-chicken-and-waffle sandwiches). It can be a bit loud, but it's all part of the fun. Make sure to order the banana-cream pie for dessert. Two stars.
Robert Sietsema praised the cheesy, eggy khachapuri at Old Tbilisi Garden, a new Georgian restaurant on Bleecker Street. "The ground-lamb-and-onion lula kebab is equally dope," and you can also order caviar-stuffed cucumber rolls. And, "as good as much of the food at Old Tbilisi is, the real utility of the place may be in exposing New Yorkers to some exceptional wines on the all-Georgian list." Two stars.
Zachary Feldman reviewed Delaware and Hudson, and found much to like. "Oily smoked bluefish pâté is a standout, boasting an addictive, penetrating intensity that accentuates the local catch's famously oceanic flavor," he says. "Jackson grew up in rural Pennsylvania, and her warm pretzel rolls arrive in a tin pail accompanied by a plate of radishes hiding under compound butter imbued with the funk of ramps or peppery wasabi cress — an ingeniously simple way to tame the forward greens."
Michael Kaminer went to the Bronx to find excellent Oaxacan food at La Morada, boldly claiming it "has some of the best Mexican dishes in the city." Order the guacamole, the mole poblano, the chiles rellenos, and the flan — it's all good.
Christina Izzo's clearly thrilled to have David Waltuck back, as she gave élan a stellar review. Though the off-menu duck-and-foie burger, "crowned with a cardiologist's nightmare of bacon mayo, caramelized fig-onion chutney and truffle oil," is overwhelming, dishes like the "überbuttery" foie gras and potato-pot stickers soar.