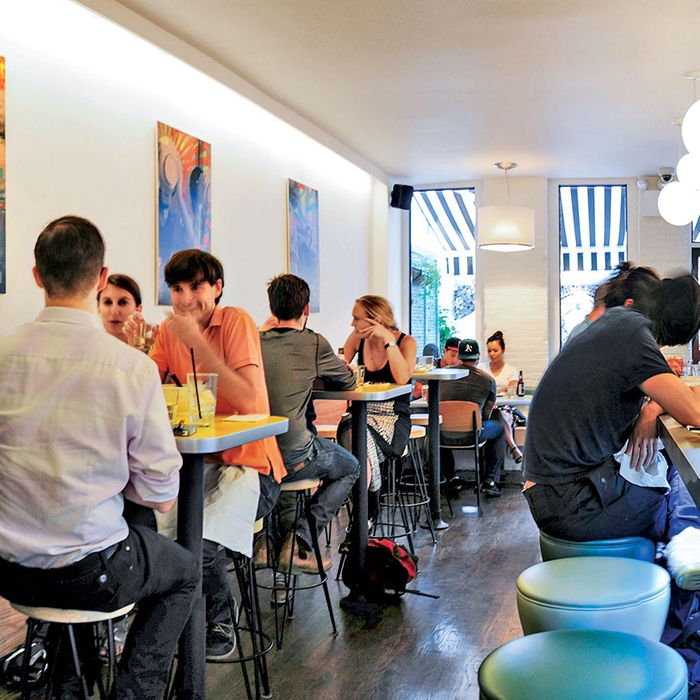 Two stars.
Photo: Sarah Silberg/New York Magazine
This week, Adam Platt reviewed Cherche Midi and Claudette, giving both restaurants two (out of five) stars for their "savoir-faire" and "classic cooking." Elsewhere in the city, Pete Wells praised Ivan Ramen, Ryan Sutton was unimpressed by the food at the NoMad Bar, and Robert Sietsema raved about Dimes. Read it all, straight ahead.
Pete Wells hailed Ivan Ramen, awarding two stars to the Japanese cooking that "colors outside the lines." The triple-pork, triple-garlic mazemen was wonderfully rich and "undeniably intense"; the Tofu Coney Island vegetarian chili dog (made with mushrooms and miso instead of chili), a delicious "joke"; and vegetable dishes, like steamed Chinese broccoli, were a "welcome oasis" among all the porkiness. While the scrapple waffle flopped and the soup ramen temperatures were off, the shio ramen's broth was like a ramped-up chicken soup, so good that "a grandmother might want to steal credit for" the dashi creation.
Ryan Sutton gave the NoMad Bar only one star for "the city's finest cocktails" but less-than-delicious food. Sure, the prices pale in comparison to those of its parent restaurant, but the eggplant beignet tasted "like it came from the freezer section of Costco"; the fried chicken was McDonald's–esque; and the tuna tartare had "as much mouthwatering succulence as morning oatmeal." While the drinks were "epic," the burger had a nice "dry-aged funk," and desserts like a housemade caramel-chocolate bar were "flawless." Sutton's advice: Until the food gets better, "drink up!"
Robert Sietsema loved Dimes, awarding the micro-eatery four stars. The "authentic Austin" breakfast tacos were excellent, and a lunchtime BLT with jalapeños and lime-cilantro mayo was "a thing of beauty that will also burn your mouth off." But the real stunner was dinner — with salads and grains that wowed. A "mountain" of spicy quinoa portrayed a "lushness of the culinary landscape" when paired with an array of vegetables, and homemade burrata arrived "looking like a runway model clad in heirloom tomatoes." Overall, entrées were so artfully composed, they each looked like a "3-D sculpture mounted on a pedestal at MoMA."
Zachary Feldman also visited Claudette, calling it "the mother of all [of] NYC's Provençal restaurants." Pastalike zucchini with roasted tomato, anchovy, and basil offered a "polished taste of summer," ratatouille tarts were delectably crumbly, and tripe was "graceful." Entrées were "veritable showpieces," including a bouillabaisse served en croûte with an "herbaceous broth" and beef with a delicious "shaggy mane of herbs and coriander seeds."
The New Yorker's Amelia Lester praised Brooklyn's Iris Café Store #9, calling it a "best-kept secret." Cured egg-yolk-topped kale croquettes with a "vaguely umami" punch and roast chicken with an impressive "flourish of green garlic" didn't "succumb to the "clichés of the borough." Desserts, too, charmed, including tiramisu and Earl Grey crème brûlée garnished with raspberries that were "a reminder" of "the height of summer."
Michael Kaminer headed to the Kickstarter-funded Thelma on Clinton, awarding the homey restaurant three (out of five) stars. Standouts included lamb carpaccio and honey-glazed dates wrapped in bacon with a "homespun cuteness." The "soy-poached" chicken breast was a misstep, but the short ribs in red-wine gravy were "fork-tender."
Tasting Table's Tejal Rao also visited The NoMad Bar, but focused on the burger. Rao found the white cheddar-cloaked patty "suspended in that sweet spot between mid-rare and medium otherwise known as just right" and with a soft bun that yielded "the pleasing squish of a great fast-food version." Rao headed to Claudette as well, and like Feldman enjoyed the restaurant's tripe dishes. Other standouts included braised chicken with apricots served in a clay tagine and grilled eggplant with vinegar-spiked yogurt and mint that had "the finest crackle of char."