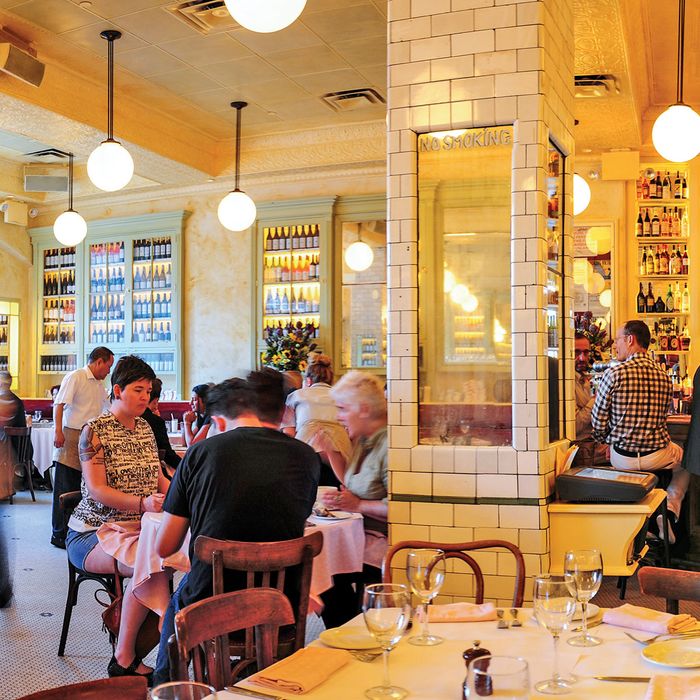 Cherche Midi
Photo: Sarah Silberg/New York Magazine
For connoisseurs of Keith McNally's time-honored French-brasserie formula, there's almost too much to like about his latest restaurant, Cherche Midi. The new place, which occupies the same stolid brick structure down on the Bowery that used to house McNally's star-crossed pizza project, Pulino's, features crimson leather banquettes along the walls and, on the menu, a much-hyped LaFrieda burger made with aged beef, just like at Minetta Tavern. The formerly spare and brick-walled space has been fitted with large mirrors (like at the Balthazars on both sides of the Atlantic). Heavy steel-framed doors now separate the cosseted little ­dining room from the raucous street traffic outside (like at Schiller's Liquor Bar), and the walls are painted a soft daffodil yellow, which reminded several of the grizzled dining veterans at my table of the recently closed Meatpacking District landmark Pastis.
"This feels like a Vegas version of Keith's greatest hits," one of the grizzled veterans said as we took delivery of some soft, properly garlicky fried frogs' legs and an arrangement of "local" beet salad, which looked like it had been beamed in directly from Kate Moss's table at the Odeon circa 1992. The generous, sushi-grade cuts of hamachi crudo looked that way, too, although the slightly updated version here is spritzed with yuzu and enlivened with tiny bits of shiso. The most inventive dish in this stately procession of golden oldies was a bowl of chilled cauliflower soup, served as a special with a single fried oyster on top, but the most satisfying, by far, was that old brasserie warhorse steak tartare, which was the color of faded pink roses and folded with capers, chopped cornichons, and a generous spoonful of egg yolk.
The newest McNally outlet may not have the manic, buzzy energy of Balthazar in its prime, or the old-world, wiseguy grandeur of Minetta Tavern, but the nicely aged prime-rib burger is almost as satisfying as its vaunted predecessor at Minetta, and it's slathered, for an extra trencherman's kick, with bacon-and-shallot marmalade and melted Gruyère. Some of the entrées we sampled were underwhelming (the bland chicken breast, the livery-tasting roasted foie gras), but the skate wing meunière (served "bone in") and steak au poivre (made with filet mignon) are adequate versions of these old brasserie staples, and if you have the appetite (and, at $48, the necessary funds), get the thickly marbled slab of prime rib, which is dry aged to a gentle gaminess and served with an elegant little stack of pommes soufflés on the side.
You can toast the good old days with 15 kinds of Champagne at Cherche Midi, along with a representative selection of mostly French, mostly modestly priced wines. The $15 house cocktails are elaborately named and brightly colored, as is the fashion at other gin joints up and down the Bowery, but if you wish to take a little bit of the edge off on a sweltering summer evening, the boozehounds at my table recommend the vividly green, cachaça-based Green and Gold, which is poured over crushed ice. After the entrées are cleared away, the hardworking servers dutifully hoist a cheese board to the table, in accordance with ancient French custom, and if none of these appeal, there are two modestly successful soufflés to choose from (chocolate and raspberry) and a properly opulent version of île flottante, decked with a crown of spun sugar on its creamy vanilla top.
Carlos Suarez's cheery new Provençal-themed restaurant, Claudette, occupies a notorious space on Fifth Avenue and 9th Street that over the years has seen a long line of worthy but doomed tenants (Washington Park, Cru, Lotus of Siam). Instead of fighting the room's powerfully bad feng shui, however, Suarez, who also runs the two successful Village restaurants Rosemary's and Bobo, has wisely opted to change it. The space used to be separated into two tiers, but now everything is on one level, and the awkwardly located bar has been moved from the front of the room to the back. The dining area has been set with bleached-wood tables and wicker-backed chairs, like in a Provençal café, and the façade has been smoothed over with polished concrete and fitted with tall French windows, which on warm days are thrown open to the street.
The results of this radical makeover have been so successful that even in the depths of summer, on a lazy weekday evening, it can be difficult, in Claudette's compact little dining room, to hear yourself think. This party atmosphere is enhanced by the user-friendly, Mediterranean-themed menu, which features bowls of hummus touched with truffles, Morrocan tagines served in tall porcelain cones, and a variety of vegetable dishes. Some of the cooking can veer toward heaviness (the bouillabaisse en croûte and chicken tagine are both big enough for two), so focus on the lighter dishes (warm lamb salad, tomatoes with toasted bulgur and mint, the excellent whole roasted dorade) and save room for the toppling little pistachio cake, which is scattered with candied orange peel and layered with a smooth deposit of whipped cream.

Cherche Midi
282 Bowery, at Houston St.; 212-226-3055; cherchemidiny.com
Hours: 5:30 to 11 p.m.
Prices: Appetizers, $13 to $26; entrées, $21 to $48.
Ideal Meal: Steak tartare, prime rib, île flottante.
Note: For fans of old-fashioned umami goodness, the Parmesan custard with anchovy-butter toast is worth a special trip.
Scratchpad: One star for the drinks and another for the prime rib.

Claudette
24 Fifth Ave., at 9th St.; 212-868-2424; claudettenyc.com
Hours: Lunch Monday to Friday 11:30 a.m. to 3 p.m.; dinner nightly 5:30 to 11 p.m.
Prices: Appetizers, $8 to $18; entrées, $18 to $34.
Ideal Meal: Truffle hummus, tomatoes with toasted bulgur (special), whole roasted dorade, pistachio cake.
Note: If you enjoy summery aperitifs, try the Simone, made with Suze and pisco.
Scratchpad: One star for the inspired makeover and another for the cooking.
*This article appears in the August 11, 2014 issue of New York Magazine.
Related: The Very Delicate, Incredibly Tricky Art of the Restaurant Redo