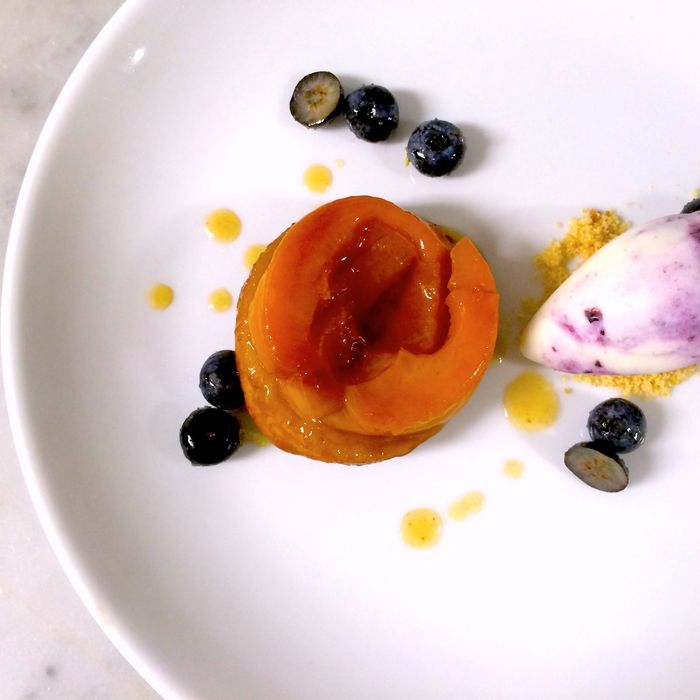 Meadowsweet's white-peach tarte tatin.
It's finally peach season, and that means that New York chefs are also turning out excellent peach desserts, like whiskey-peach cake, peach melba sundaes, and, of course, melting pies and crostatas. Move quick, because these offerings are super seasonal: You want to make the most of this time of year, when peaches are perfectly ripe, sweet, and juicy. To make things easier, we've rounded up the newest desserts that feature everyone's favorite stone fruit.
Sugared Peaches on Warm Buttered Toast
Where: Prune
Price: $8
Gabrielle Hamilton knows that perfectly ripe peaches don't need a whole lot of bells and whistles: She caramelizes the fruit and piles it on top of a soft piece of white bread.
Peach Melba Sundae
Where: Victory Garden
Price: $8
Sophia Brittan adorns her Cheap Eats award-winning goat's-milk soft-serve with lightly poached Jersey peaches and a fresh raspberry sauce.
Olive-Oil Cake
Where: Montmartre
Price: $10
Soft olive-oil cake gets split in half and filled with Frog Hollow peaches that are macerated in basil syrup made from the restaurant's herb garden. It gets finished off with whipped crème fraîche.
Peach en Papillote
Where: Dover
Price: $11
This excellent dessert comes out steaming hot, with the peaches wrapped in parchment paper and swimming in brown butter. Bonus: There are pistachios sprinkled on top.
Frog Hollow Peaches
Where: Bar Primi
Price: $10
This is Andrew Carmellini's first restaurant without an official pastry program, but Sal Lamboglia is carrying the torch just fine. His newest seasonal dessert combines the flavors of sangria and housemade Fior di Latte gelato with the country's top peaches.
Coconut-Peach Cake
Where: Marlow & Sons
Price: $9
Anise-hyssop ice cream adds an unusual, sophisticated touch to a simple fruit cake.
Whiskey-Cornmeal Cake
Where: The Cleveland
Price: $9
Chef Max Sussman tops off this boozy dessert with roasted peaches, crème fraîche gelato, and — wait for it — whiskey syrup.
Brown-Butter Peach Cake
Where: Gato
Price: $11
Now that the review cycle has passed, critics have agreed that desserts here are excellent — and that includes a classic, southern-inspired peach cake with blueberry gelato.
Nectarine and Peach Curd
Where: Take Root
Price: Part of $105 tasting
Dinner at this Carroll Gardens gem ends with a riff on afternoon-tea flavors: It's a layered dessert with a chamomile custard and macadamia milk.
Peach-Blueberry Kuchen
Where: Nourish Kitchen + Table
Price: $5 per slice
Marissa Lippert and pastry chef Amelia Coulter's light, ever-changing kuchen — a cake with a coconut-cream crust and rose curd — is available by the slice if you need a quick, cheap peach fix.
Peach-and-Blueberry Shortcake
Where: Gramercy Tavern
Price: $12
Pastry chef Miroslav Uskokovic's his latest creation mixes fresh fruit with pecans and refreshing lemon-verbena ice cream.
Sfogliatelle Breton Butter Cake
Where: Barchetta
Price: $14
This classic cake from Brittany has a caramelized-sugar top, as well as local peaches and blueberries.
Peach-and-Blueberry Crostata
Where: The Clam
Price: $9
A lovely way to follow meal of raw oysters, or perhaps some fried clams, is Mike Price's stone-fruit-centric crostata, with a scoop of housemade toasted-almond gelato.
White-Peach Tarte Tatin
Where: Meadowsweet
Price: $9
At Polo Dobkin's new Williamsburg restaurant, pastry chef Jared Rubin cooks peaches in caramel, stuffs them into a classic puff pastry, bakes it all, and serves it hot with cool housemade lemon-verbena ice cream that has blueberry jam swirled in. It's finished off with blueberries macerated in lemon juice, plus lemon zest and sugar.
Roasted Peaches
Where: Toro
Price: $10
This dessert looks simple, but it's fairly complex: Yellow peaches get roasted in lemon verbena and thyme brown-butter, then topped with yogurt mousse, orgeat-macerated cherries, and strawberry-and-white-chocolate crumble. Essentially, it's a play on a peach parfait.
Peach Melba
Where: Empire Diner
Price: $9
Amanda Freitag combines the familiar flavors of poached peaches, raspberries, candied almonds, and vanilla ice cream in her newest dessert, and she's also offering a Peach Fuzz cocktail with gin, cava, Aperol, and créme de peche on her brunch menu.