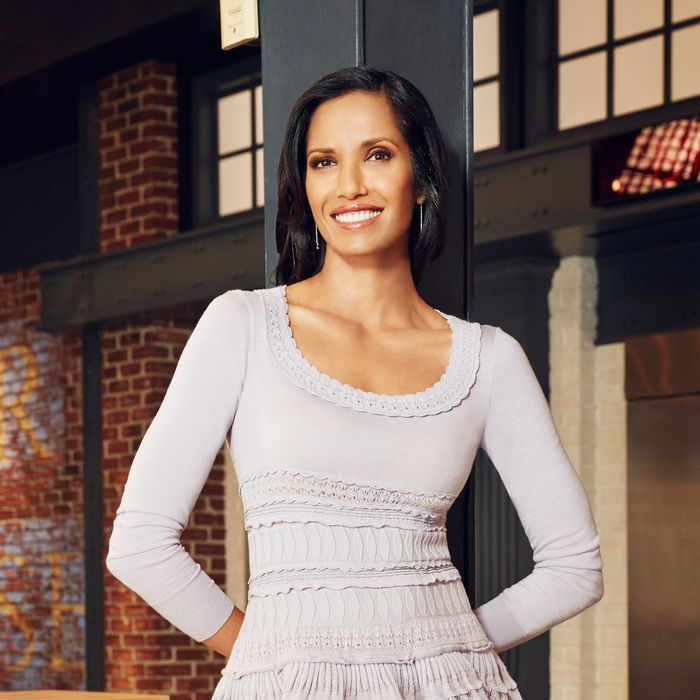 The host on a presumably better day.
Photo: Tommy Garcia/Bravo
While season 12's new promo is busy teasing fun, Thanksgiving-themed camaraderie, some crew members have spilled details alleging there was a much less peaceable vibe back in June while the show filmed. An anonymous behind-the-scenes worker claims a group of Teamsters who had gathered to picket Bravo's refusal to hire union workers allegedly went nuts and threatened just the whole cast and crew. One source even tells Deadline that when Padma Lakshmi arrived that day to shoot at suburban Boston's Steel & Rye, she was met with shouts like "We're gonna bash that pretty face in, you f–king whore!"
According to a report, police at the scene called for backup, though it apparently wasn't enough to keep Top Chef personnel from enduring "a gauntlet" of sexist, racist, and homophobic slurs. Milton's deputy police chief says they even slashed 14 tires on Top Chef vehicles, and a source adds "this nightmare" actually occurred in milder forms every day until they wrapped, about two weeks later.
The show's producers and executives at Bravo, who along with Lakshmi, it's worth noting, have not officially commented yet, allegedly "stood by and did nothing" even after picketers "threatened to kill us, beat us, and said that they would find us and force us out of the city." A source "close to Bravo" tells the Boston Globe the harassment did in fact occur at Steel & Rye, but adds it was an isolated event, for what that's worth. "Being called names and yelled at and harassed for 12 hours while working, I started to crumble," a crew member says of the incident. "I was scared and worried for my safety."
Padma Lakshmi: Boston Teamsters Attack 'Top Chef' Host & Crew [Deadline]
Source Close to Bravo Confirms Account of Teamsters Harassment During 'Top Chef' Taping [Globe]