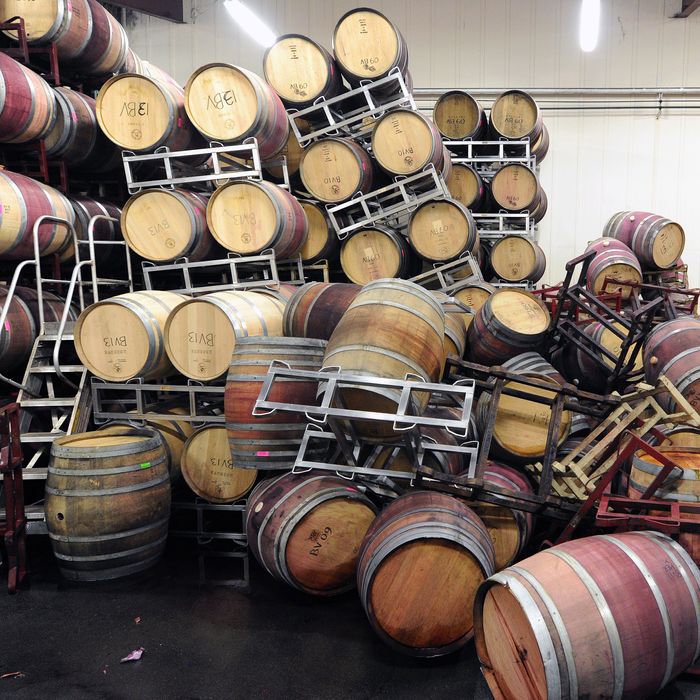 The scene at Bouchaine Vineyards in Napa.
Photo: Josh Edelson/AFP/Getty Images
The 6.0-magnitude earthquake that struck the San Francisco Bay Area early yesterday morning stands to devastate the local wine economy. The quake's epicenter was in Napa Valley, home to more than 500 vineyards, and while it is far too soon to estimate the wine-country-specific damage, numerous photos of wrecked storage rooms and punctured barrels, not to mention general reports from producers, are starting to come in, and the situation looks grim.
In addition to vineyards and other industry-side facilities, wine bars, retail outlets, and restaurants lost inventory during the earthquake. Barrels storing last year's grapes tumbled to the floors, breaking open, while bottles in cellars or on store shelves fell to the floor. One business owner estimated a loss of "'at least' $15,000 to $20,000 of wine inventory," while another, whose cellar holds an estimated $1 million of inventory, said "99 percent" of the inventory was left intact. One distributor who was holding 80,000 cases said his damage was just one bottle of wine. In the case of Silver Oak Winery, several bottles of "irreplaceable" wine were destroyed.
Structural damage remains a separate issue — in one case, a winery's water tank became untethered, which will delay this year's production, which is already hampered by drought. In the images below, each barrel you see damaged or destroyed is the equivalent of 25 cases, or 300 bottles of wine.
An online forum has been created for winemakers in need of help navigating the recovery process.
More scary photos of barrel destruction in Napa. Wine leaking all over the floor! pic.twitter.com/zf1fD9htFr— Maureen Downey (@moevino) August 25, 2014

Man surveys fallen wine barrels after the magnitude 6.0 quake in Napa, California. (Photo via Reuters) pic.twitter.com/lyrrugEb5Q— ABS-CBN News Channel (@ANCALERTS) August 25, 2014

Keep our friends in Napa in mind. go out and buy a bottle of Naps wine for dinner tonight. They don't deserve this. pic.twitter.com/jIiCSmoqU7— Adam Lee (@SiduriWines) August 24, 2014

Damage the Napa #quake caused at Bouchaine, the winery closest to epicenter. Barrels cracked, spilled wine, $$$ lost. pic.twitter.com/2DrgHgKgGx— Juan Carlos Guerrero (@JuanCarlosABC7) August 24, 2014

Pool of red wine & toppled over wine barrels at Napa Barrel Care after #earthquake .. Each barrel holds 300 bottles pic.twitter.com/7LuPqOFc57— Anjali Hemphill (@AnjaliHemphill) August 24, 2014

Earthquake at @SilverOak pic.twitter.com/uSfHX2WzBk— David Duncan (@DavidSilverOak) August 24, 2014

California earthquake shatters prized wine collections in Napa Valley http://t.co/0FLs6iyRGv pic.twitter.com/FZ7arqySta— dna (@dna) August 25, 2014

The losses from California's Napa earthquake could top $1 bln—and yes, some of that's wine: http://t.co/wy84yfMPPa pic.twitter.com/HC1txRwFgC— SpeedReads (@SpeedReads) August 25, 2014

Spilled wine quite a sight after Napa earthquake http://t.co/x0t02fIWHE photos via @anabanana0924 pic.twitter.com/B1paFPkYXP— NBC Bay Area (@nbcbayarea) August 25, 2014

What a shot of quake damage in Napa wine country. pic.twitter.com/3zapEL8dJE— Troy Hayden (@troyhaydenfox10) August 24, 2014

Napa's newest wine bar Cadet estimates $15K-$20K in lost wine inventory. Reopening soon tho. http://t.co/bOxLsuZdpG pic.twitter.com/PKu9RMiNjd— Paolo Lucchesi (@lucchesi) August 24, 2014

#DailyFeedback Vintners in Napa Valley are hurting after this weekend's earthquake. Suggest songs about wine. pic.twitter.com/iqhcCyhwSe— 91.3 WYEP (@WYEP) August 25, 2014

I'm happy all my napa peeps are safe but the earthquake wine destruction is breaking my heart pic.twitter.com/9zRPXB6h9X— Cortney Pagano (@ccpag828) August 24, 2014

Cult Wine Bar will be ok! Downtown Napa got hit pretty bad! Keep u posted when we open back up pic.twitter.com/IjNqrYNGk6— Charles Woodson Wine (@TwentyFourWines) August 24, 2014

I call for a wine bucket challenge in honor of the fallen in Napa. But dump the bucket in your mouth #earthquake pic.twitter.com/QlDoWy0zV5— Miki Matteson (@Miki_Matteson) August 24, 2014
Photos of #napaquake damage shared by a @KING5Seattle viewer who now lives in Napa & works in wine industry. pic.twitter.com/5IERiNq9fU— Ted Land (@TedLandK5) August 24, 2014

Napa, Ca. Whole Foods wine section! #Earthquake pic.twitter.com/ZSQnUWKq59— Shannon (@PeaceIsUponUs) August 25, 2014

LIVE: Napa earthquake updates from California officials streaming here http://t.co/mHrRw2xs7k pic.twitter.com/JGKxFqcbAS— KHOU 11 News Houston (@KHOU) August 24, 2014

It's not just wine.
A Napa olive oil shop lost most of its inventory in the earthquake http://t.co/kMJrsSVn2M #napaquake pic.twitter.com/MixAPPImf7— KTVU (@KTVU) August 24, 2014

Damage at Lucero Olive Oil in Downtown Napa. #earthquake pic.twitter.com/dtHZMlAGD6— Matt Keller (@MattKellerABC7) August 24, 2014


Napa restaurants assess the Northern California earthquake damage [Inside Scoop SF]
A Big Earthquake Hit Northern California This Morning [Daily Intelligencer]