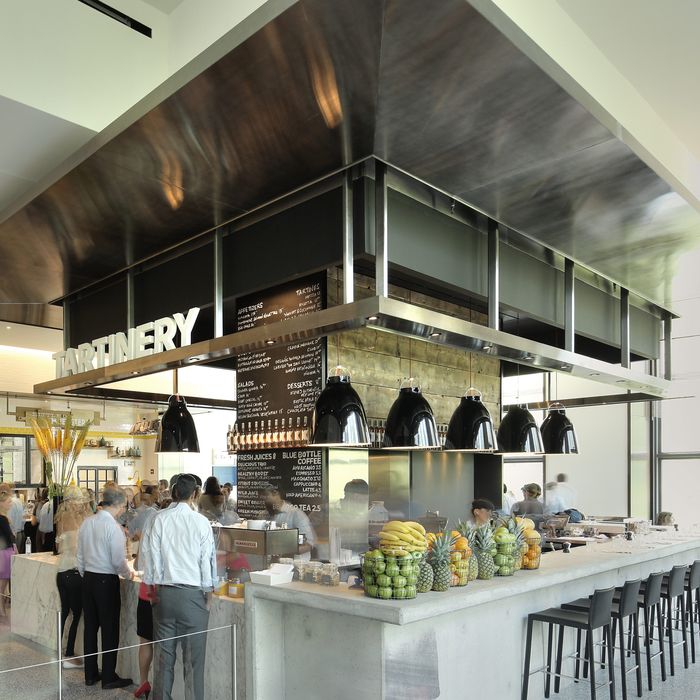 Customers at Hudson Eats.
Food courts don't get much love, filled as they are with subpar fast-food and an inevitable Panda Express. But it's hard to argue with the premise: A collection of otherwise disconnected eating options that gives the impression, at least, of nearly limitless feasting potential. Thankfully, that basic idea is getting a makeover at the city's ever-growing roster of grand food halls and outdoor culinary communes, places like Smorgasburg, Gotham West Market, and Berg'n, which is set to open in Crown Heights on August 27. As the food-truck boom of the late-aughts becomes a distant memory, food halls and markets are quickly becoming both vendors' and diners' preferred places for assembling some of New York's very best food.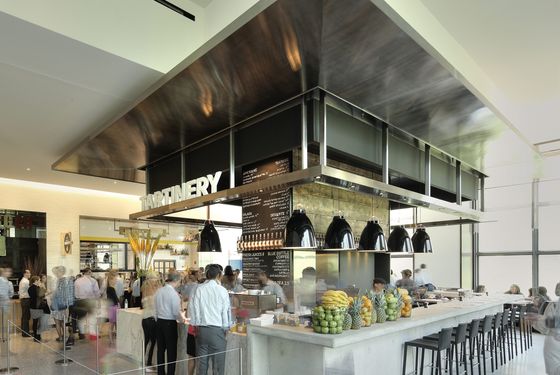 Since opening this past November, Gotham West sees daily guest counts between 800 and 2,000 people. Downtown, Hudson Eats at Brookfield Place attracts customers, including the 250,000 people that live and work in the financial district, with names like Parm, Black Seed bagels, and Umami Burger. Smorgasburg has expanded to five locations and offshoots, including Jones Beach. Eataly is a behemoth quasi–food hall poised for global domination. Even Anthony Bourdain has a hall of his own in the planning stages.
The draw is obvious: People can find a lot of amazing things to eat. "If you have a lot of good food in one place, people will come," says Keith Klein, who runs Milk Truck Grilled Cheese, which grew from a Smorgasburg stall to a stand-alone location and then tossed in a truck after the fact. But it's not just customers who flock to these markets. The entire structure of a food hall plays to exactly what vendors are looking for: low upfront costs and high foot traffic. The success of each vendor in a given market attracts more attention, and brings yet more people in. "We kind of look at it as a big family," says Jonathan Butler, who, along with Eric Demby, created the Brooklyn Flea, Smorgasburg, and Berg'n.
At outdoor markets, like Smorgaburg, the barrier to entry is especially low for people who want to give it a go with a food stand. At Hester Street Fair, stalls top out at around $300 per day, and they include access to electricity, security, clean-up, and restrooms (all costs that any young businessperson is happy to farm out to someone else). Renae Holland, who sells fried anchovies at a Smorgasburg stand called Bon Chovie, says it took her just one day to recoup her $1,000 initial investment which included her stall fee, supply costs, and the amount she paid at Macy's for a few deep fryers.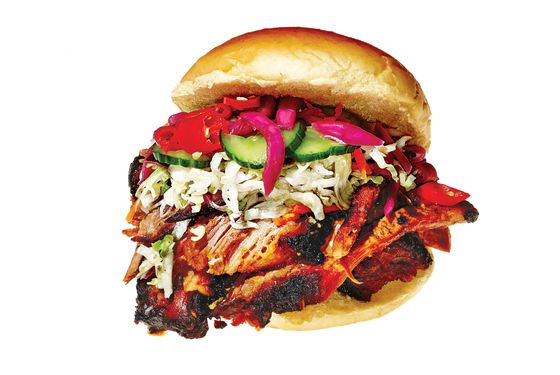 At most indoor food halls, vendors pay market-rate rents. Stand operators are uniformly reluctant to reveal exactly what they pay, but Gotham West president Chris Jaskiewicz says the market works because the vendors' combined rent is not just enough to cover real-estate costs, it's "trending towards being sufficiently profitable."
Meanwhile, at Berg'n, vendors don't pay rent at all, and instead will pay a percentage of their overall profits. The goal, Demby says, "is to align everyone's interests."
However it shakes out, it's cheaper than going it alone. For trucks or stand-alones, Klein says, "You're talking about capital costs that are in the six figures." In some cases, as at Hudson Eats, vendors do pay for the build-outs of their own kiosks, but they're smaller than full businesses, and require much less work. Rent at Hudson Eats is comparable to what a vendor might pay in the East Village. "The cost savings is where you don't have to build," says Hugh Mangum, founder of Mighty Quinn's Barbeque. Pay for employees such as dishwashers and supply receivers can also be split among multiple vendors.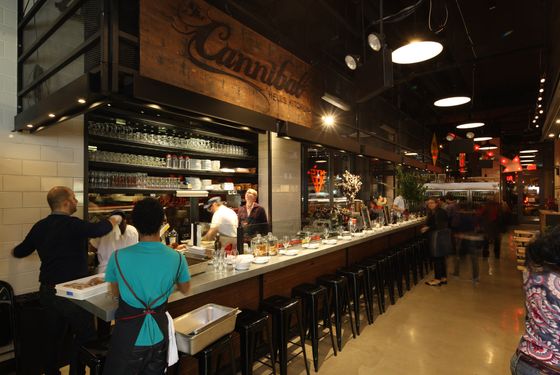 There are also headaches, of course, — especially at stripped-down markets like Smorgsaburg: It can be difficult to anticipate customer demand, and vendors don't want to drive home with a truck full of unsold anchovy heads. "It took us a good two years to be able to anticipate that perfect balance of buying enough but not buying too much product," Holland says. People whose food requires a lot of prep must also rent space in a licensed kitchen, since it's illegal to serve food that's cooked at home. And there's the hassle of paperwork, getting permits and insurance, though that can all be had for a few hundred dollars for each year of vending.
Minor nuisances aside, it's hardly surprising that people are rushing to fill the stands, to the point where vendor vacancy is basically nonexistent, and competition for inclusion is fierce. That means it isn't getting easier for unknowns to set up their own stalls, since each food hall and market works a bit like a commune, with members looking out for the overall benefit of the entire enterprise. At Smorgasburg, where vendor turnover is so low as to be practically nonexistent, it might take three months before Demby and Butler will even consider a new stall, and only a few applicants actually get to audition. Even then, being great isn't enough if a potential vendor isn't also offering something that the market needs. "The best hot-dog-maker might apply," Demby says, but they'll be politely turned away because "we already have hot dogs."
Indoor markets can be even more difficult, since high rents mean market organizers want names with built-in cachet, like Ivan Orkin (whose noodle stand anchors Gotham West), or Black Seed, which became a social-media phenomenon before opening its Hudson Eats outpost. "No food-hall landlord is going to be interested in you if you don't have an established brand," says Black Seed partner Noah Bernamoff.
Out in Crown Heights, Butler and Demby can actually pull from the roster they established at their other markets to fill the stands: Mighty Quinn's is a Smorgasburg blockbuster (with two stand-alone shops of its own). That market saw the debut of the Ramen Burger, too, which will get its own Berg'n space. There will be Pizza Moto slices and fried chicken from Asia Dog, too. The names, and the promise of craft beer, have driven anticipation to an all-time high after a series of pre-opening delays. While there's no guarantee that Berg'n will be a smash when it finally opens in a couple of weeks, all signs indicate it's going to be as successful as the city's other food halls. "We're kind of banking on the fact that there's a lot of people and not that many places to go," Demby says. "Also, that people really like barbecue."
Related: Berg'n Beer Hall Opens August 27
Earlier:What to Eat at Berg'n, the New Brooklyn Beer Hall Serving Tons of Amazing Food