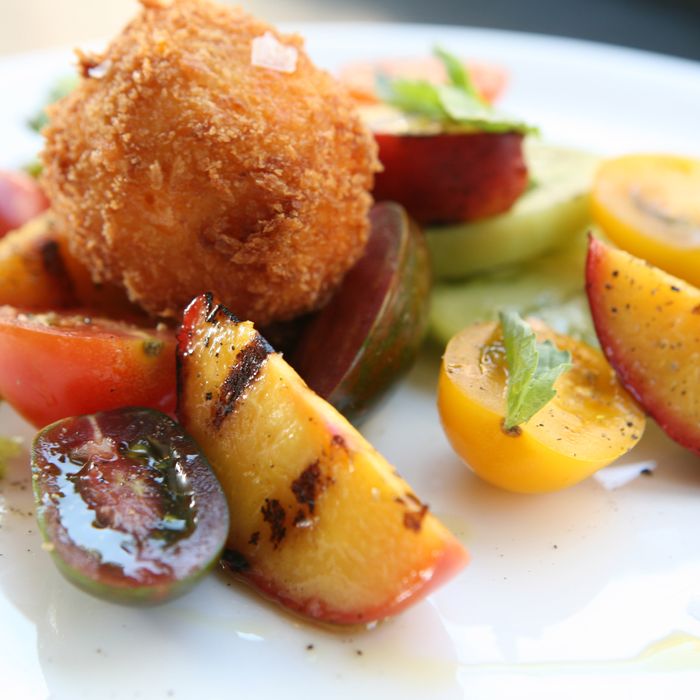 Root & Bone's tomato salad with fried pimento cheese and peaches.
Photo: Matt Hinckley
Tomatoes are, indisputably, the kings of seasonal produce. Few other things can really approach the anticipation of that first, perfect, late-summer bite of a properly ripe tomato. No other fruit or vegetable really has this sway. Perhaps it's because we spend so much of the year tolerating mealy, off-season slices on our sandwiches that we all appreciate the real deal so much more — ten long months of being reminded, constantly, of what we're missing. But now is the time, people. So sprinkle some slices with Maldon, grab a blob of burrata, maybe a few basil leaves, and have at it. But once you've enjoyed a few tomatoes in their simple glory, move on to something a little more inventive: Chefs all over town are getting playful with this year's tomato dishes: There's a Vietnamese riff on a BLT at Nightingale 9, a crazy tomato-centric cheese plate at Betony, and élan's steamed squash blossoms with tomato confit. Here are a dozen new dishes that you will want check out soon — very soon, in fact.
Sun-Gold Tomatoes
Where: Alder
Price: $18
Wylie Dufresne's East Village kitchen takes sweet, tiny tomatoes from Eckerton Hill Farm, dresses them in vinaigrette spiked with shabazi (a Yemenite spice blend), adds house-made mozzarella, pancetta, and peppery arugula pesto, and rolls it all up. It's then sliced and warmed in the oven until it's all warm and gooey.
House-Cured Bacon
Where: Nightingale 9
Price: $12
This newly reopened Carroll Gardens restaurant serves a play on the BLT, with bacon, heirloom tomatoes, crispy-rice paper, and mustard greens. And for something lighter: There's also a tomato dish on the menu with watermelon, Thai basil, and crab paste.
Lamb & Green Tomato Pie
Where: Glasserie
Price: $10
Chef Eldad Shem Tov has changed up the Greenpoint restaurant's menu since Sara Kramer left, and one of his additions is this hearty savory pie, which is available at brunch.
Southern Peach Caprese
Where: Root & Bone
Price: $12
You've already tried countless tomato salads with burrata or stracciatella, but what about pimento cheese? This includes fried pimento cheese, grilled peaches, pickled green tomatoes, heirloom tomatoes, sticky-molasses vinegar, and basil.
Tomato Cake
Where: Dirt Candy
Price: $13
Move quick before Amanda Cohen closes the original Dirt Candy on August 30, and prepares to relocate to Allen Street. This dish includes a tart shell with peeled cherry tomatoes, reduced tomato juice, and smoked feta, wrapped in something called "tomato leather" — made of dehydrated yellow tomatoes, garlic, and peppers.
Zucchini-Blossoms Tomato Confit
Where: élan
Price: $16
Zucchini blossoms won't be around for long, either. The steamed blossoms are stuffed with breadcrumbs and zucchini, dotted with barely-cooked cherry tomatoes, all set atop crème fraîche. And here's a bonus: Chef David Watluck also makes tomato-watermelon gazpacho with lobster and crispy ham.
Caña de Cabra With Tomato Honey
Where: Toro
Price: $13
Jamie Bissonnette makes tomato honey by pureeing and straining heirloom tomatoes, and then cooking them with demerara sugar and herbs until a thick syrup forms. It's the perfect topping for Spanish goat cheese and grilled bread.
Fried Green Tomatoes
Where: Shalom Japan
Price: $14
Aaron Israel and Sawako Okochi fry green tomatoes, and then add yuzo-kosho aioli and pickled ramps. And don't forget to order bread pudding.
Cheese Plate
Where: Betony
Price: $14
The fancy-pants, tomato-heavy cheese plate here includes Condors Ruin cheesecake, red-onion marmalade, marinated multicolored Eckerton Hill tomatoes (some simply marinated, some "blistered" in hot oil to remove the skin), and a marjoram-and-red-onion biscuit crumble.
Dried Shrimp and Tomato
Where: Estela
Price: $14
New to the menu is a light, seasonal salad with Louisiana dried shrimps, ripe cherry tomatoes, and fresh garlic. It's the perfect complement to Ignacio Mattos's beloved beef tartare.
Ajo Blanco
Where: Racines
Price: $14
This Spanish cold soup gets remixed with savory tomato sorbet, cherries, and green beans.
Fried-Green Tomato
Where: Murray's Cheese Bar
Price: $16
The famous cheese bar's underrated sister-restaurant wisely combines fried and pickled tomatoes with fried oysters, cloumage remoulade, and basil oil — the essential tastes of summer, all together now.