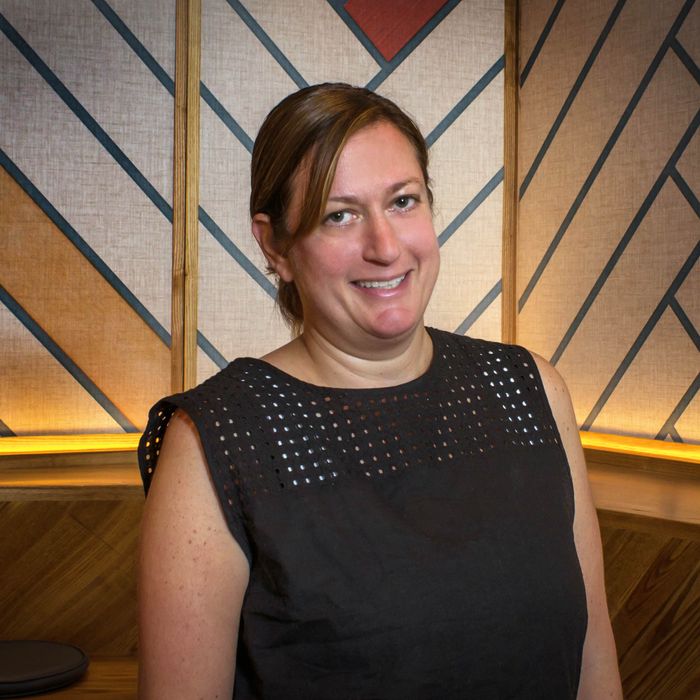 "I will cook pasta again, for sure."
Photo: Paul Wagtouicz
Since Missy Robbins stepped down from her positions as executive chef at A Voce and A Voce Columbus in May of 2013, New Yorkers have been waiting — and waiting — for her to announce her next move. But Robbins, who earned Michelin stars at both restaurants, is taking her time. She's spent much of the past 15 months traveling, cooking at home, and, yes, laying the groundwork for her first solo project. But now, Robbins is back in the kitchen, albeit temporarily, as she helps out Laura Maniec at the new Corkbuzz in Chelsea Market. Grub sat down with Robbins and asked her about what it's like to write a menu for a restaurant you'll eventually walk away from, how the fine-dining climate has changed since she left A Voce, and when she'll start cooking pasta again.
How did you and Laura first connect?
We met over the last year, through friends. She called me a couple months ago and was like, "I have a situation and I need someone. Can you help me?" And I said, "I don't know that I can be your chef, but I can maybe do some consulting." We met and came up with ideas, and now this is a total passion project and I love it. It's a little bit more than just consulting for me.
What is the collaboration process like?
I'm very involved. The menu is hers, but it's a menu that I would open with anywhere. It's my real food; it's not, like, Laura-specific dishes that I executed. We had a very similar vision of what this place should be, and, really, I didn't know her that well and we kind of just grooved, and it all came together.
How long do you think you'll stick around for?
Well … I'm supposed to be here through September. We've left it open-ended. There's no, "It's September 30; you have to leave" kind of deal. It's more like, We'll see what happens, and we'll see where I am with my own stuff, and what she needs.
Do you ever think, Oh, maybe I want to save this for my own project?
It doesn't matter to me. Food is food. I really love this project. I love what Laura is doing, and I don't feel like this is just, "Here is a consulting project; give us 20 recipes." I'm here every day. I'm cooking and it's a three-man kitchen, so my former chef de cuisine, Hilary Sterling, before she starts her new job at Five Points, is here with me. A lot of the foods are things that we wanted to do for a really long time that weren't necessarily A Voce-appropriate. This is a more casual environment than I've ever been in, but the food is still really elegant. It's also more playful than anything I've done in the past. We have popcorn on the menu! We have potato chips.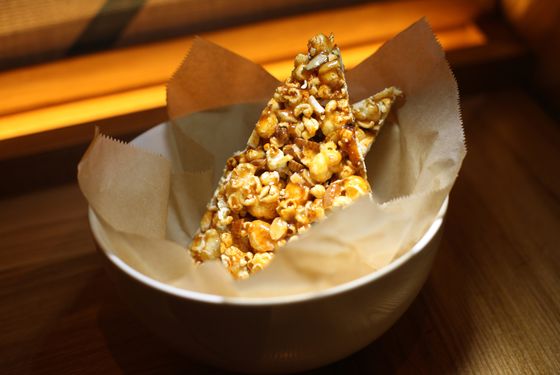 Popped corn with Sicilian almonds, smoked paprika, and sea salt.Photo: Melissa Hom
It's been over a year since you left A Voce. What has your life been like since?
I had an amazing year. A lot of it was relaxing. I traveled — I was in Italy for most of November. I was in Asia for most of December of last year. And I've taken care of myself quite a bit. I've gotten really healthy, which is important for me. And I've met with a lot of people and networked, and tried to figure out what I really want to do, and who I want to do it with. I've been really lucky in my career in that I've always gone from a great job to a great job to a great job. I've never really had to look for jobs. This year was really like, Well, what do I really want to do? I haven't 100 percent figured it out.
Do you have any sense of your timeline for opening your own restaurant?
I'm gradually working on my own place. But now that this is here, and I'm very busy with this and excited about this, I'm not in a huge rush. I want to do it correctly. I want to do it with the right people. I want to do it in the right space. And I just want to make sure it's the right thing. I don't want to do a restaurant just to do a restaurant. It's too much work to just, like, do it. The new project is very much in its infancy stages.
Will you stay in New York?
I would like to — that's the goal. I wish there was somewhere I wanted to go because that would be a lot easier. You know, the real estate in New York is really difficult and it's obviously really expensive to open a restaurant here, and all that stuff. But I love New York. It's my home. So I'm here for a while … I'm here. I'm here, for sure.
How did you make the decision to leave A Voce?
It was a tough decision. I've been doing this for 20 years, and the only time I've taken off is a month between moving from Chicago and starting at A Voce. But that's very minimal: You're moving, and you're getting ready for a new job — it's not really time off. I had been at A Voce for almost five years, and I was looking to the future and wondering if this is really what I wanted. At the end of the day, I didn't think it was the right thing in the long term. A Voce was amazing for me: It gave me a stage to perform on, essentially. I made a name for myself, and I cooked great food, but at a certain point you have to ask, Is this really making me happy? And for the amount of work I'm doing, is this really what I want to do? And at the end of the day, it felt like a good time to take a break.
Did you plan on taking over a year off?
I never really intended to take a year off! I said I would give myself a year off, but I thought that after three months, I would go crazy. And it's not really what happened. I was able to enjoy myself. At first, it was really weird — don't get me wrong. The first couple of weeks, I had no idea what to do with myself. But it's amazing how occupied you can keep yourself when you're not working … I highly recommend it to anyone. I think it's hard for chefs to take time off. From a mental perspective, people are really passionate about what they do, and I'm really passionate, but I cooked at home a lot, which was amazing. And I learned how to cook a different way and lost all this weight.
Is there a fear that if you stay away too long, it'll be harder to return, or that people will care less?
Yes and no. Frankly, I've sort of enjoyed just being , and not worrying about that. Not that I don't enjoy it. I enjoy the process and I enjoy that I can make people happy with food and that people are interested. I've enjoyed that the press is interested in what I'm cooking and what I do. From that perspective, it's great, but that's not why I do it. Yeah, there's a slight fear of, Oh my God, if I'm gone any longer, people are not going to care when I come back, and I'm trying to open this restaurant. But I think if you do what you do well, people become interested again … Yes, there's certainly a little ego involved in leaving, but for me, it sort of was relieving. I was just happy to do my own thing. It was an intense five years … I never expected to win Food & Wine's "Best New Chef." I didn't expect to get Michelin stars in both new restaurants. Everyone hopes for that, but again, it's not why you take a job or do what you do. The spotlight can be intense, and you have a lot of standards, and a reputation, to uphold.
Does Corkbuzz's casual vibe appeal to you?
This is just super fun. It' a lot of hard work, don't get me wrong, but it's just a fun environment to be in, and, you know, fine dining is fine dining. And I love fine dining. There's a part of me that would love to open a Spiaggia-type place someday, and I really miss that environment. You feel like you're getting ready for this incredible performance every night when you work in a fine-dining establishment … I would love to do that again, but now is not the time. I don't think the climate is right for it, and I don't think that's where I am right now, mentally. I want to have a little more fun and cook a bit more, without those restrictions of having to fit into a box.
How does pasta fit into your plans?
The only thing I can't do here is pasta — which is really weird for me, but also kind of fun, because there were times where all anyone talked about was, "Oh, Missy's pasta! Missy's pasta! I want to eat your pasta!" So it's really nice that there's not this one thing that people are focused on. But I will cook pasta again, for sure. My place will be very heavily focused on pasta, whatever I do.
It's true about fine dining: We are living in a post-gourmet era. Do you think we'll see a shift?
I've always said, "It'll shift back." I think it has to. It can't stay like this forever. It has to do with economies, and I think there's a casual vibe going on in the world right now. But fine dining always has a place. I still love going to fine-dining places. It's still really fun to get dressed up and go eat a proper meal, which I think we all do very infrequently now.