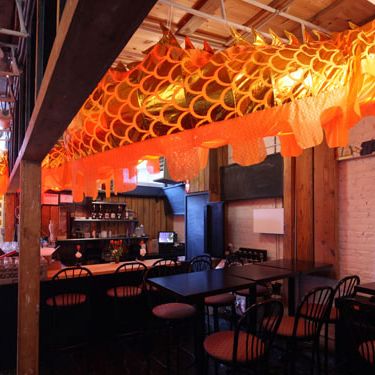 The partners say their landlord also knew that the backyard area was not built to code.
Photo: Melissa Hom
When New York's Mission Chinese outpost closed last year, the team made no secret of the problems facing the actual space that housed the restaurant. Now Danny Bowien and his partners are suing their landlord for leasing the troubled location despite its problems and, according to DNAinfo, causing "immeasurable harm to their reputations and brand."
The group reportedly has a list of complaints about Noy — the location's backyard space was not up to code, Noy refused to make repairs, he took advantage of their inexperience leasing commercial real estate in New York — but by far the grossest is this passage from DNAinfo's story:
An exterminator Mission Chinese hired warned the restaurant that "the building was 'vulnerable externally and internally'" and traced the problem to a locked storage room that Mission Chinese could not access, according to court papers.

Mission Chinese hired a second exterminator who finally got into the storage room in November and discovered "an absolute cesspool: drain water and sludge emptying into a veritable swamp with corpses of mice littering the ground," the restaurant says in the lawsuit. "[The exterminator] stated that this location was the worst health risk he had seen in years."
Noy, the Mission Chinese crew says, flatly refused to fix the situation. After the Health Department closed the restaurant for a second time last fall, owing to the rodent problem, the partners tried to get out of their lease, but Noy has reportedly instead asked for additional money from Bowien & Co. and refused to return their security deposit.
Mission Chinese Sues Landlord Over Mouse Infestation That Forced Closure [DNAinfo]