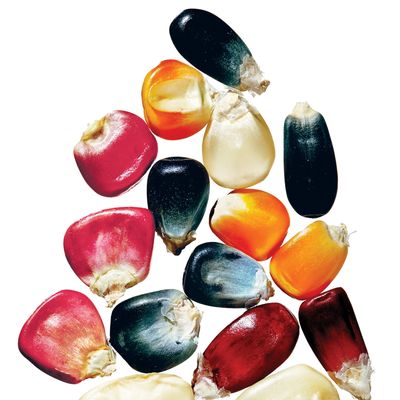 Getting caught in the maize.
Photo: Bobby Doherty/New York Magazine
If Kate Barney and Jorge Gaviria have their way, Mexican-food mavens will soon progress from asking "Where do you get your tortillas?" to "Where do you get the corn for your tortillas?" The partners recently launched Masienda, a niche business devoted to importing dried Mexican landrace corn (locally adapted, open-pollinated cultivars). They met their first prospective client, Pujol's Enrique Olvera, at a conference at Blue Hill at Stone Barns, and when Olvera began planning the menu for his Manhattan restaurant, Cosme, he told them, "I have beans and peppers, but I don't have any corn." (For an increasing number of kernel-to-taco chefs, without corn, there is no masa, and without masa, there are no tortillas, tamales, nor the rest of the antojito category.)
After an immersion course in Mexican maíz, Barney and Gaviria struck deals with a number of small family farms and have begun distributing their harvests of blue and white bolita, elote occidental, and a dozen other varieties to chefs like Sean Brock, who's opening a new Mexican restaurant in Charleston, and breweries like Peekskill, which is creating a custom blue-corn beer for Roberta's with epazote from the restaurant's garden. "It just made sense, no?" says Cosme's Olvera, who has already purchased a year's worth of Masienda corn. "They were trying to do something that I thought I was going to have to do myself."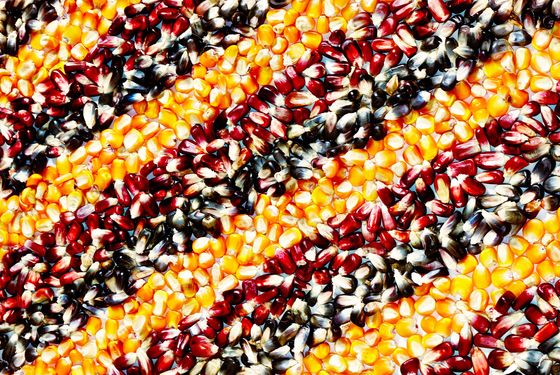 Photo: Bobby Doherty/New York Magazine

Related:
• Al Pastor Tacos Will Be the Main Attraction at Alex Stupak's Empellon al Pastor
• Enrique Olvera to Serve "Single-Origin" Tortillas at Cosme
• A Fall Preview of Mexican Restaurant News
*This article appears in the August 25, 2014 issue of New York Magazine.