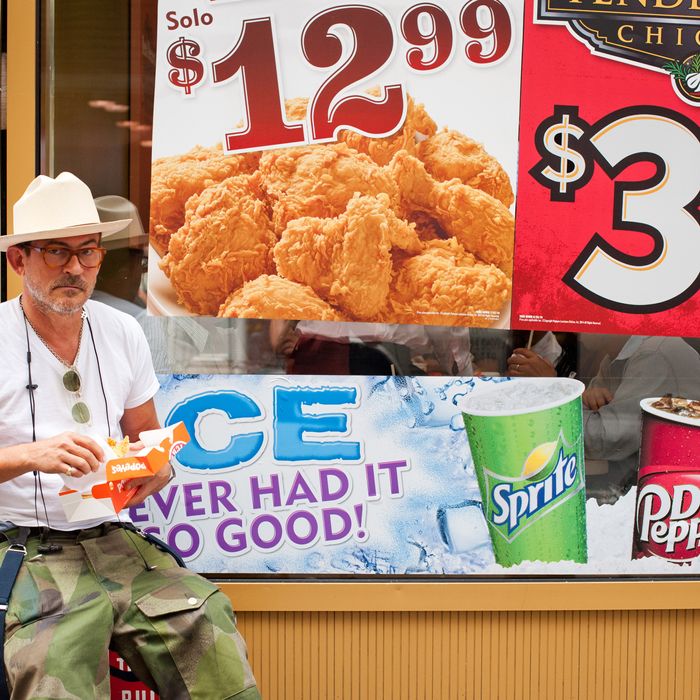 "Lunch was at Popeye's. Heaven. I love it!"
Photo: Liz Clayman
Menswear designer Mark McNairy is largely credited for popularizing "Ivy League style" and igniting the whole preppy, Americana craze in men's fashion when he was the creative director of J.Press. But now, he's moved on to streetwear inspiration with his own collection, Mark McNairy New Amsterdam. McNairy has also collaborated on a clothing line with Pharrell, and partnered with rappers like Cam'ron and Danny Brown. Fittingly, his diet isn't what you might expect from someone in the fashion industry. It's full of French fries, soda, Popeye's chicken, M&M's, and at least one trip to Hooters with his son. Read all about it in this week's Grub Street Diet.
Friday, August 1
I started my day with two cups of coffee. I make my coffee at home. We used to have a normal coffee pot, but my wife found an organic instant coffee at Whole Foods. We have so many fucking gadgets on the countertop. The instant coffee's actually better than the other stuff, so that's what we drink at home now.
I didn't have any breakfast that day. I was running late. I used to never eat breakfast during the week, but now I make it a point to have a bowl of cereal.
I had another cup of coffee at the State Farm Insurance agency office. What got me there? That's a long story. They want to cancel my car insurance!
Lunch was at Burger King: two cheeseburgers (the little ones!), French fries, and Dr. Pepper. It's the closest place to my office. Normally, when I'm working, I don't take much time to eat, so I like Burger King. I'll probably eat there once or twice a week for lunch.
I had an espresso at the office, and another espresso at home. I have to drink espresso in the afternoon to keep me going. And plus, I've stopped drinking almost a year ago, so that probably increased my intake of espresso in the afternoon. I had cherries as a snack. I don't normally eat fruit, historically, but I'm trying to get better at things like that.
Dinner was at my favorite Indian restaurant in Jersey, Mausam. Indian on Friday is kind of a habit, but it's too much trouble to drive into the city. I had chicken vindaloo, papadum, and garlic naan — same thing every time. I don't even look at the menu.
Saturday, August 2
I had two cups of coffee and Raisin Bran Crunch. I like that cereal.
Then, I went to the Land Rover dealership to pick up a new car, and it wasn't ready. My son didn't eat his breakfast before we left the house, like he was supposed to. He was whining about being hungry. All they had there was half of a bagel with butter. He refused to eat it, so I ate it.
We had turned in our old car, and we were waiting for our new one, so we couldn't walk anywhere. The only option was a Hooters next door. So I took him next door to get French fries. He's 5. He finally shut up!
I had pickled okra and a peanut-butter-and-jelly sandwich on white bread when I got back to the house. That's my normal Saturday lunch. We took the Hooters French fries home, and it was enough French fries to feed a family of 12. I'd normally have potato chips, but I ate the French fries instead. I also had a Coke.
Then I had an afternoon beverage of cherry lemonade. I found it in the refrigerator. And an espresso.
Dinner was Grimaldi's pepperoni pizza in Hoboken, plus a Caesar salad and a Coke. Once again, the restaurants in Jersey … the choices are abominable. I lived in New York for 25 years, so I'm used to having the best food in the world at my fingertips, but in Jersey, it's just atrocious.
M&M's for dessert. Happens almost every night. I don't know why, specifically. I used to eat a pint of Häagen-Dazs almost every night. To me, a pint is a single serving, but I have really bad cholesterol, so I've gotten out of that habit. Now a handful of M&M's does the trick.
Sunday, August 3
Breakfast was two cups of coffee and a bowl of Raisin Bran Crunch.
Lunch, or sort of lunch, was a large popcorn and Coke at the movie theatre. We saw Guardians of the Galaxy. There was no time for lunch. I loved it!
After we left the theatre, we were starving. My wife is pretty healthy, so she usually doesn't eat McDonald's or junk food. She wanted me to take her to a Japanese grocery store. I had a ham roll from Mitsuwa in Edgewater. There are a bunch of Japanese restaurants inside the grocery store. Because the restaurants are so shitty in New Jersey, that's another option. I was starving, but I didn't want to eat a full-on lunch because I was still miserable from the Coke and popcorn.
Another espresso, and then for dinner at home, my wife made chicken tacos. She had made the chicken the night before in a crock pot, and we turned them into tacos. We had black beans, too. M&M's for dessert.
Monday, August 4
Two cups of coffee at home, and another coffee at the office.
Lunch was at Popeye's. Heaven. I love it! I had fried-chicken strips, mashed potatoes with gravy, a biscuit, and a Coke. It used to be a regular spot for me, but it's a further walk from my new office. It's simple perfection. I mean, jeepers! It's fried chicken.
A double espresso at 4 p.m., and the dinner at home: leftover chicken from the night before, over a bed of arugula, tomato, onion, cucumber, feta, and cilantro. And fried fingerling potatoes. That was actually a nice, healthy full-on dinner. M&M's for dessert.
Tuesday, August 5
I woke up, drank coffee, and went to the airport at four o'clock in the morning. I had another coffee at the airport, and I picked up a blueberry muffin for the plane. I'm trying to change my habits and put something in my stomach before I drink a whole pot of coffee.
Another coffee on the plane. I arrived in Salt Lake City, went for a walk, and found a place called Red Hot right across the street. I had a Kobe beef hot dog with chili and onions, a small Caesar salad, and a Coke. I wasn't seeking out a Kobe beef hot dog. It just happened.
And then, I had an afternoon Coke at Lumpy's. Normally, I drink one Coke with lunch, and that's it. But I don't know what happened this week. I don't know why I've had so much Coke. I tend to drink sparkling water with dinner, but for some reason, I couldn't stop ordering Coke. I would rather choke to death than drink Diet Coke, though.
Another espresso, and then room service for dinner: grilled ham and cheese and a chocolate-chip-cookie ice-cream sundae, while watching the CMA Music Festival. I was supposed to go to a work dinner, but I was too wiped out. The food was pretty good. I didn't have to talk, either.
Wednesday, August 6
I had to order a pot of coffee from room service before I could call you. I smoked a cigarette in the bathroom with the door shut because you're not allowed to smoke in the room.
For lunch, I had pizza and a Coke, and then, another espresso. And for dinner, room service again. Steak-frites … You caught me on a bad week! I like nice food — it just doesn't seem like it from this list.