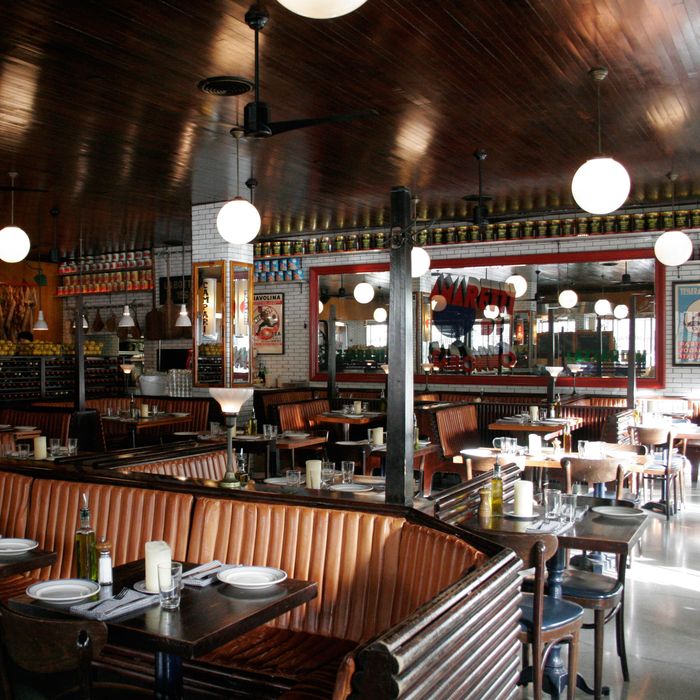 This space is about to get all Amalfi-ed up.
Photo: Shanna Ravindra
Team Torrisi is not the only heavy-hitter about to imbue Manhattan's west side with a breezy dose of coastal Italian ambiance and food: Restaurateurs Mario Batali and Joe Bastianich today announced that their B&B; Hospitality Group has joined forces with hoteliers Richard Born and Sean MacPherson on an overhaul of the Maritime Hotel's entire food and beverage program. This will ultimately extend to room service, the Chelsea venue's "cabanas," its lobby bar, and La Bottega, which currently exudes an old-world, leather-bound trattoria vibe. The redone restaurant, which has an ample patio section that opens in warmer weather, will be redone with pastels and terra cotta tiles.
The menu is inspired by the "cooking of the Italian coast and islands," the group says, including crudos and whole roasted fish dishes. There's no word on the timeline or the project's chef, but the as-yet-unnamed restaurant is just a block away from Batali and Bastianich's Italian megaplex Del Posto. La Bottega remains open, for now.
BATALI AND BASTIANICH HOSPITALITY GROUP ANNOUNCES PROJECT AT CHELSEA'S HISTORIC MARITIME HOTEL

New York, NY (August 25, 2014) — Mario Batali and Joe Bastianich, owners of B&B; Hospitality Group (B&BHG;), announce that they will take over the food and beverage program at the legendary Maritime Hotel.

The project will encompass the spaces currently occupied by La Bottega, the lobby bar, and the Cabanas as well as room-service for hotel guests.

The food program will mirror the hotel's nautical architectural elements, featuring cooking of the Italian coast and islands. Dishes of crudo and whole fish will conjure the storied hotels of Capri. Pastel colors and terra-cotta tiles will transport diners to the terraced hillsides of Positano.

The Maritime Hotel project will be B&BHG;'s first new standalone restaurant in New York in nearly a decade. B&BHG;'s most recent New York undertaking was Del Posto, the distinguished four-star restaurant which opened in 2006 just west of the Maritime Hotel. B&BHG; also operates the restaurants inside the Eataly Marketplace which opened in 2010.

"The Maritime has just as much, if not more, outdoor space than any other hotel in Manhattan. It's the sort of place I like to spend time. We'll bring our perspective on Italian food and a little old-school New York to this Chelsea landmark," Batali says. "The neighborhood is ready for a new hangout. I look forward to working with Richard Born and Sean MacPherson and their expert team."