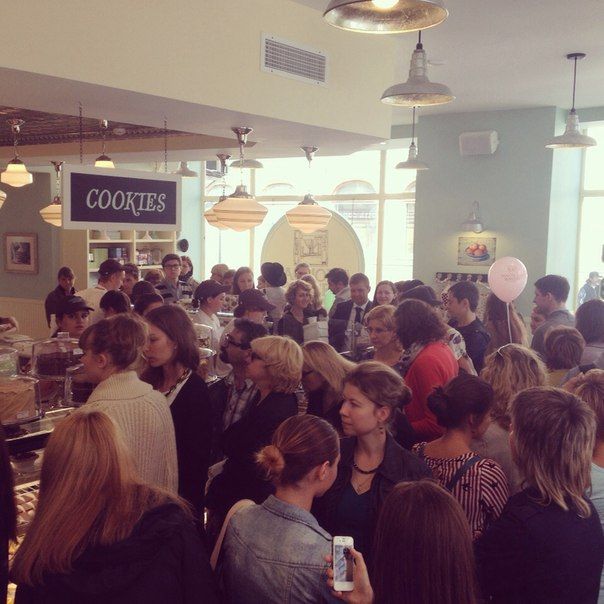 Yesterday's cupcake-craving masses.
Photo: Magnolia Bakery/VK
Right now is not really the best time to be a burger or a milkshake or two fingers of Kentucky bourbon in Russia, but Magnolia Bakery has blazed right into Putin's backyard regardless. It's hoping its poorly timed but incredibly bustling Moscow debut will be able to soar on the universal power of cupcakes and Russians' apparently very specific love for Sex and the City.
Owner Steve Abrams says Magnolia is "a happy brand, not worried about the politics," and estimates sales for the store's treats and banana pudding will beat the $2,000-per-square-foot average at other locations, which include six spots in the Middle East and one in Tokyo. Abrams says they'll be "fine with local ingredients," and Bloomberg reports the spot will eventually treat Muscovites to "products influenced by Russian culture." Still, our advice would be to bring over their burliest bouncer in case no-fun watchdog Rospotrebnadzor comes knocking — we hear they have a thing against mini marshmallows and buttercream.
Magnolia Sells Cupcakes in Moscow Under a Cloud of Putin Curbs [Bloomberg]
Related: Russia Bans Nutella, Tabasco, French Cheeses, and Lots of Other Great Stuff