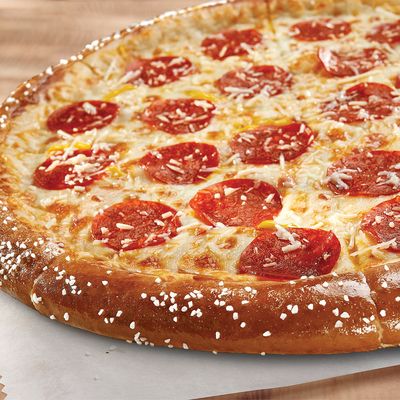 Pretzel! Pretzel!
Photo: Little Caesars
After limited-release test-marketing in a few far-flung franchised locations earlier this year and some recipe refinement, Little Caesars Soft Pretzel Crust Pepperoni Pizzas are now ready for a nationwide roll-out, which happens September 1. The burnished crust pie may become a permanent menu item if all goes well, and things are already looking up. "I'd buy one in a heartbeat," an R.I.T. professor emeritus tells USA Today. "It sounds better than a pizza bagel." Plus, each pie costs $6.
The chain's actually been hard at work on some version of this finger-food mashup since 2012, . The latest wisely eschews cheese sauce for a four-cheese blend, and mustard, which was testers reported was "a pretty polarizing flavor." The salted pretzel pie has pepperoni tomato sauce, and what purports to be a burnished pretzel crust. Chief executive David Scrivano hints there may be some sort of Pretzel Bites side order option in the near future too, so the chain's clearly positioning to extract all it can before the entire fast-food sector hits peak pretzel. If Little Caesar's hustles them out fast enough in oversize peanut-butter-filled animal shapes, they may even pioneer the first Dominique Ansel lobster tail knockoffs.
Pretzel Pizza: Newest Fast-Food Twist [USA Today]