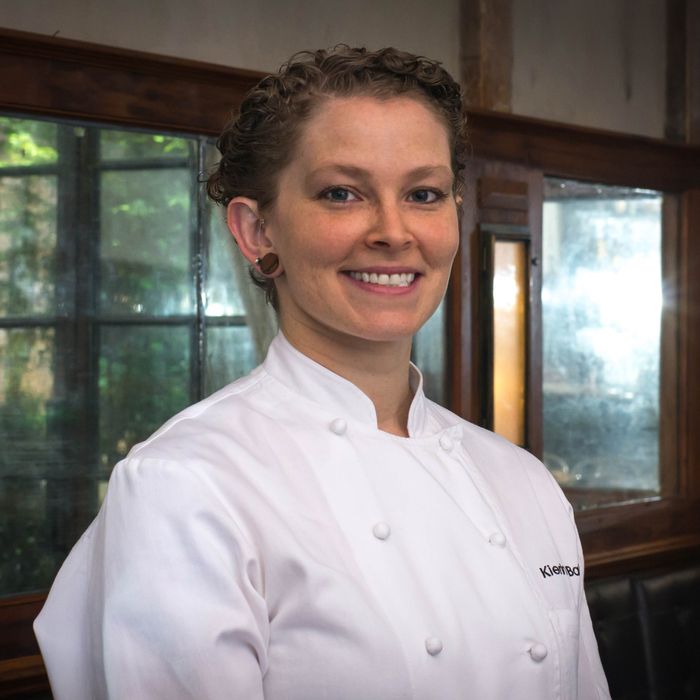 "Dessert should not be an obstacle course."
Photo: Paul Wagtouicz
Earlier this month, Kierin Baldwin moved from the Dutch — where she made a name for herself making top-notch pie — to Locanda Verde. Even though she has stayed in Andrew Carmellini's empire, this is still a reunion of sorts for Baldwin: She was the opening pastry sous chef at Locanda, under Karen DeMasco, and now Baldwin's putting her own spin on the restaurant's Italian desserts, adding items like a chocolate-sourdough tortino and a maple semifreddo. Grub sat down with her to talk about why fewer New York restauranteurs are hiring pastry chefs, the rise of veggie-centric desserts, and how she's evolving things up while still appealing to Locanda's old-school regulars.
You were the sous-chef under Karen DeMasco when Locanda first opened. How does it feel to return?
I was here for two years until the Dutch opened, so it's lovely coming back to familiar faces. The program, though, is a very different beast. It's a lot bigger than the Dutch's, and there's a much larger private dining room, and I'm figuring out all the different things I need to keep my eyes on. And Soho and Tribeca have two very different local populations.
And you have the café up front now! What are some of the new pastries that you're serving there?
It's something I wish I could've had at the Dutch, but the space wasn't made for that. Here, the café is small, and I don't think it's as well known as I'd like it to be. But it's great to able to do the stuff every day that I was only able to do for brunch at the Dutch. We just put on these Morning Glory muffins. They're more of an Italian version, so they have pine nuts and some orange, lemon olive oil, pistachios, and Grappa-soaked raisins. They're pretty tasty and, like, health-ish.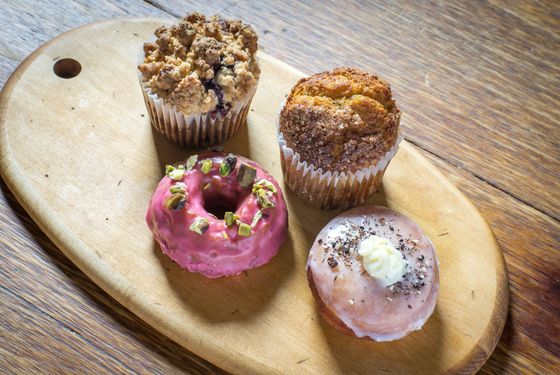 Blueberry-buckwheat muffin, sweet-corn muffin, raspberry-glazed-pistachio doughnut, and Tutto Bomboloni (everything doughnut).Photo: Paul Wagtouicz
How is Locanda's Italian sensibility influencing your cooking?
It's very easy to reimagine some of the recipes I had, and combine them with flavors that make them a little more appropriate for serving here. A little bit more of an Italian idiom, basically. So, last week I was doing these potato doughnuts that I've done for brunch at the Dutch, and I did them with a rosemary glaze. Also, the [everything-bagel-flavored] doughnut that I was doing at the Dutch — I've brought that here and reimagined it as Tutto Bomboloni. That one blew up on Twitter like I wasn't expecting!
How do you strike a balance between creating something new and innovative, while still appealing to Locanda's regulars?
What we did at the Dutch, and what we do here, is not crazy-new cuisine, or anything like that. My desserts are based on familiar flavors. Nostalgia sounds cheesy or old-fashioned, but at its heart, each dessert should remind you of something and be deeply satisfying. Like, "Oh this reminds me of something my mother made for breakfast on weekends." Dessert is the one course that is totally optional, and if you want to — especially at a place like this where we have so many regulars — get people to keep coming back and ordering dessert, it has to satisfy them. It can't just be something that's novel. So the first thing is for it be something that is just delicious. The second thing is pushing a little novel stuff right under the door.
At the Dutch, you'd often pair a classic fruit pie with an unexpected ice cream.
I did a buttermilk pie with cherries with a balsamic ice cream. A lot of people would look at a balsamic ice cream and be like, "Hmm, I don't know about that." But when you have it with something that's basically a cherry cheesecake, it makes people more open to trying things.
What new plated desserts have you added to Locanda's menu?
We're putting on a chocolate-sourdough tortino with oatmeal-stout gelato — some of the same flavors I was working with at the Dutch, but reimagined as an Italian conception. And the other one I'm doing is a maple semifreddo with nectarines, melon, prosciutto, and pecans.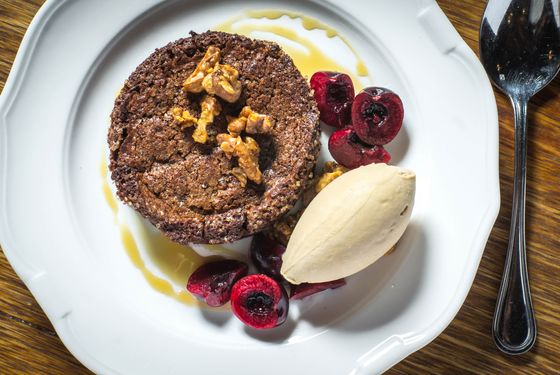 Chocolate-sourdough tortino with oatmeal-stout gelato, candied walnuts, and sweet cherries.Photo: Paul Wagtouicz
Are there certain items you can't touch, like the lemon tart?
That's the only dessert that is a Karen DeMasco original. I want to change that eventually, but I feel like there are some things that I have to tread a little bit carefully on. That's a dessert that if I do change, I have to make sure whatever I put in its place is absolutely stunning.
Andrew Carmellini clearly cares about his pastry programs — but it seems, increasingly, that he's in the minority. Do you think the job of a restaurant pastry chef is disappearing?
The dining scene has changed so much. I've only been doing this since 2005, but after 2008, the whole fine-dining thing crashed a bit, and now people open more casual restaurants. Economically, it's just not realistic to have that kind of pastry program unless you're a certain kind of restaurant. And that kind of restaurant is not like most of the restaurants that are opening right now. A.C. has a great deal of respect for having a real pastry program. It's a very important thing, even at restaurants that are a little bit more casual, because it's the last thing that people remember about the experience. Pastry is also an amenity that just builds good will.
Those casual places aren't making precious, plated, composed desserts, and, generally, I'm okay with that. I think in Platt's piece, he was really longing for that old fine-dining kind of thing, and the food I make is not that, anyway. Desserts are food, when it comes down to it, and you'e going to eat it. It's not any more glamorous than that, and if you are just doing it to make something that's pretty or piled this high or has all of these little dots of sauce all over the plate, I don't find that interesting.
Or the dessert just looks good on Instagram.
I have a background in art: I went to art school and studied video and photography, and printmaking, and worked in the photo industry for a few years after college before I went back to culinary school. That kind of visual way of thinking about plates comes very naturally to me. So usually, when I'm making a dessert, the way I approach it that I worry first about what it's going to taste like. Because pastry can be so much more visual, a lot of pastry chefs get caught up in that too much. I work in the Karen DeMasco style, and, going back two generations, the style Claudia Fleming had at Gramercy Tavern.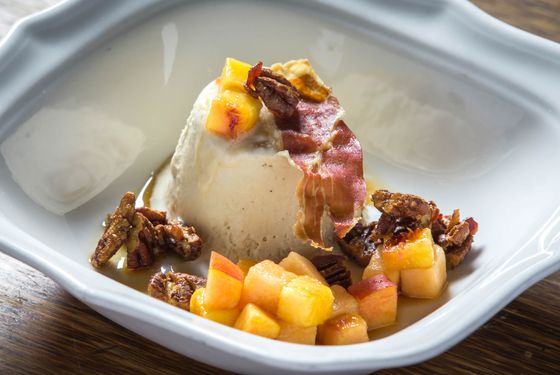 Maple semifreddo with prosciutto, pecans, cantaloupe, and nectarine.Photo: Paul Wagtouicz
What do you think about the rise of more savory, vegetable-centric desserts?
I don't love desserts that are confrontational. In my response to that whole Platt thing, I trashed vegetable desserts, because I feel like it's such like a thing now, and people just do it because it seems interesting. I'm cool with parsnip cake, and I have zucchini doughnuts in the café right now. I've used all kinds of vegetables, but I don't do it in a way that I'm trying to force somebody to try something new. Dessert should not be an obstacle course … Also, it ties into how there are fewer pastry chefs in kitchens, and it's the savory chefs who are often writing the dessert menus. That can be great, but dessert doesn't have to be just another course from dinner. It's okay if it's sweet. It doesn't have to include vegetables just because it seems like that's more cutting edge or health-ish.
How do you ensure that there's a sense of unity between the savory and pastry teams?
Part of a pastry chef's job is to be part of a team. When it comes down to it, I'm working for A.C., and expressing his ideas about food through my food. Luckily, our ideas jive really well … I think a lot of pastry chefs get like, "I'm not doing this, I'm not doing that." And that's not the way it should be done. If your boss wants you to do something, it's probably the way it should be done, so just get over it, and get over yourself.
Is pastry an avenue that you'd suggest chefs pursue? What do you think about the future of the New York pastry chef, specifically?
Being a pastry chef is not a dying thing; it's just about finding different ways to do it. There are pastry chefs who are opening consulting companies — I hear about that happening more and more. I think also it's going be tied to certain metropolitan areas that are dense and wealthy enough to be able to support pastry chefs — New York, definitely … But in general, there's such a hunger from people who are educated about food to have amazing specialty food items. If you look at everything that's happening at Smorgasburg, there are places for pastry chefs on that side of the industry.
And a restauranteur like Carmellini can afford to foster pastry programs. But how conscious are you of the financial strain of your department?
That's mostly just about being a good chef: When it comes down to it, what we're doing here is also a business, and I want the pastry program to make money, and not just get dragged along by the rest of it. Pastry usually ends up getting a bad rap, budget-wise, but it's such an important part of the business because people remember it. The financial part is not something that, for me, comes naturally, so it's something that I've had to teach myself, just by paying attention to what the other savory chefs are doing here. If you're ever going to go and open your own business, you have to think like a businessperson.
Is that something you're thinking about?
I've considered it, but I love where I am now and what I'm doing, so I have no reason to want to leave or move on to the next thing … Another challenge of this job is to figure out how to do it without completely and totally running yourself into the ground. You have to be really tough. Don't complain. If there comes a day when you can't handle it anymore, then just get out.