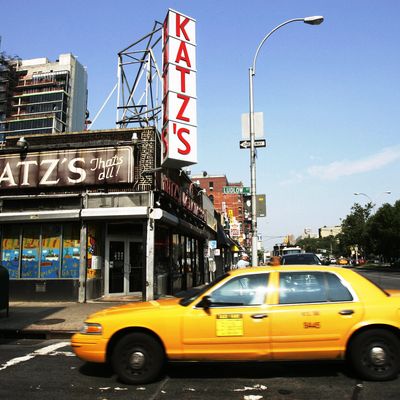 Coming soon: Some kind of cantilevered building right behind here?
Photo: Stan Honda/AFP/Getty Images
The structures surrounding the Katz's Delicatessen have been soaring to all kinds of new luxury condo heights for some time — just look here for the current state of things — and now with the inexorable rush to crowd Houston and Ludlow Streets with the tallest buildings city zoning will permit comes the news that the venerable, 126-year-old restaurant has sold its air rights. The buyer, along with the details, have not yet been identified, but Katz's proprietor Jake Dell says the pastrami sandwiches will keep on coming no matter what happens.
Dell tells the Lo-Down that the move was entirely preservation-minded:
The most important thing is that the future of Katz's is secure — at the end of the day, no developer can ever come in and knock us down to put in a high rise. At no point will anyone value the corner of Houston and Ludlow for anything other than Katz's Delicatessen. A year after our 125th anniversary, this will help ensure that we can see our 150th, and hopefully many more to come.
The blog reports that in a phone conversation, Dell said that while he could not discuss specifics of the deal, Katz's Delicatessen would "not be closed for a single day" going forward. Speculation is that a parcel of adjacent buildings that will likely be demolished in advance of a new construction may ultimately give rise to a cantilevered building. Earlier this year, Katz's immediate neighbors, including Bereket and Philly's Cheese Steak, closed after they were purchased by real estate developer Ben Shaoul. This morning, the blog Bowery Boogie reported that Taqueria on Orchard Street will also relocate.
Katz's Delicatessen has had a rough few months: A water-main break damaged its basement and ruined a few lunch hours back in May, and Dell has said the endless construction on East Houston Street has at times literally impeded customer access to the restaurant's front door. Its current situation echoes that of Brooklyn cheesecake destination Junior's, which is thought to be closing temporarily in advance of a new tower that may reach 50 stories.
Breaking: Katz's Deli Makes a Deal to Sell Air Rights; Restaurant Will Remain [Lo-Down]
Breaking: Katz's Deli Sells Its Air Rights But It's Not Going Anywhere [Bowery Boogie]