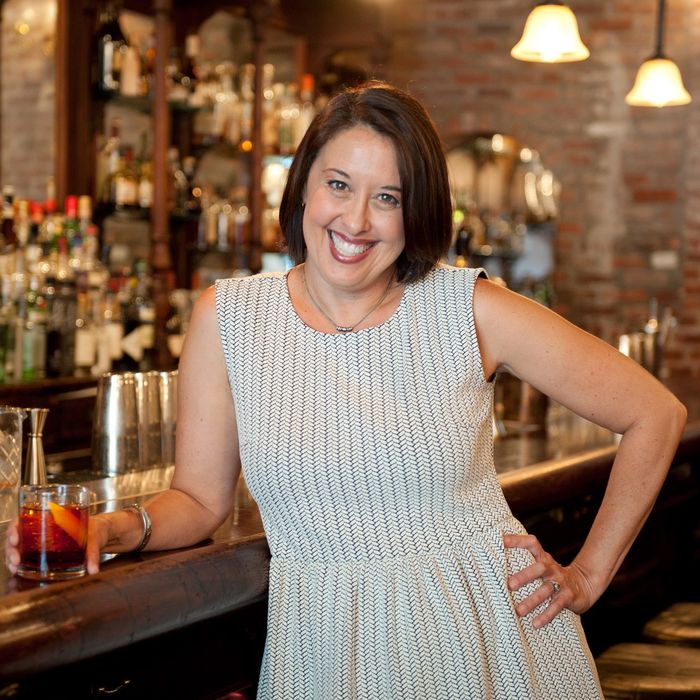 "We brought a half-bottle of Moet rosé and drank that from plastic cups."
Photo: Liz Clayman
Julie Reiner has accomplished the enviable goal of building a career out of booze: As the owner of famed bars Clover Club and Flatiron Lounge, she's a pioneer in New York's cocktail scene. In addition to her bars, she also runs Mixtress Consulting, an agency that sets up bar programs at places like the Living Room at the new Park Hyatt. This weekend, you can also catch (or drink) her work at the ninth-annual Jazz Age Lawn Party on Governors Island. But first, learn where to find arugula gelato in Park Slope and what to make with smuggled Havana Club, in this week's Grub Street Diet.
Friday, August 8
I'm up at 7:30 a.m. daily with a 5-year-old human alarm clock named Maya. Breakfast is coffee, Special K with 1 percent milk, and a grapefruit "lump drink": a specialty named by my brother, which we've been drinking since our childhood in Hawaii. Basically you scoop out a whole grapefruit, squeeze the juice into a glass, and add a tiny bit of sugar. It's delicious.
After the gym, I had some cottage cheese, and then I headed to the Living Room in the new Park Hyatt, and was there all afternoon tasting cocktails, only taking a break to run across the street to Fresh & Co. for lunch. Turkey chili. For dinner, though, I was able to try some of their food — I was their guinea pig. I had the crispy-skin salmon with a shaved vegetable salad.
I went home at about 9 p.m., sat out on our deck with my wife, and read my daughter a story before putting her to bed.
Saturday, August 9
Coffee and a croissant at Du Jour Bakery, my favorite local spot, where I tend to go a lot on the weekends. It was my day off, and we were having a barbecue with family, so lunch was a quick sandwich while prepping the house and yard: turkey, arugula, and red onion with mayo and honey mustard on a demi-baguette.
We recently moved from the second floor to the first floor of our brownstone so that we could have the backyard. When we lived upstairs, Maya once looked outside and said, "Mama can we buy a backyard?" I know, heartbreaking. Not only is the space great for her, but now that we have this awesome deck, it's a game changer for entertaining.
My wife, Sue, can cook her ass off, so she handles the food for the evening and I handle beverage service. I made two different Aperitif-style drinks: A St. Germain cocktail for my sister-in-law, because she loves it, and an Aperol Spritz for everyone else. When we were ready for something harder, we moved to daiquiris, made with a bottle of Havana Club I smuggled in from London last week. Then, we had rosé wine with dinner: Kalbi Korean short ribs, grilled prawns, baby broccoli, Asian cold peanut noodles (soba), and Asian salad. Teriyaki and ginger-scallion sauces for dipping. Dessert was brownies.
When my wife went to pick up the ribs at Whole Foods, there was an older Korean woman standing in the line with her, who gave her a great tip: Soak the meat in water for 20 minutes before you marinate it because it gets rid of all of the blood. She was totally right!
Sunday, August 10
Sunday, I'm usually home, but today I had to go in to the Park Hyatt for a few hours to help them assemble their backbar, and I grabbed a cranberry-almond Kind bar and coffee from the bakery. Sue went to Clover Club to handle brunch, so we had a babysitter come over to be with Maya so that we could both work. (Getting a babysitter so you can work is the worst.)
I made it back for brunch, and I may be biased, but brunch at the Clover Club is the best-kept secret in Carroll Gardens. We started with the deviled eggs with four different toppings, smoked trout, bacon, mushroom duxelles, and garlic croutons, and the oysters "rock your face off" — fried oysters with a Rockefeller sauce. They were serving a special of New Orleans–style shrimp and grits, and I had them throw a fried egg on it, just to make it over-the-top. To drink, I had the Machinist, a fantastic savory drink with blanco tequila, fino sherry, Suze, celery juice, lemon, salt, and pepper.
In the afternoon, we went to an impromptu birthday party in McCarren Park for Lacy Hawkins, one of my bartenders at Clover. We brought a half-bottle of Moet rosé and drank that from plastic cups. Maya did cartwheels. Good fun for all.
Sunday family dinner was steamed lobster, corn on the cob, sourdough bread, and tomato salad — made with heirloom tomatoes that I picked up from the Park Slope farmer's market. Pinot Blanc to drink.
Monday, August 11
Coffee and a strawberry-and-goji-berry Fage yogurt with a little bit of grape nuts for crunch.
On the way home from working out, I decided that it was a really good idea to stop at Begyl and reward myself with an everything pumpernickel bagel (the only place I've ever seen these) with cucumber-dill cream cheese, and some Nova lox. I brought everything home and assembled it with some red onions from the farmer's market.
I met Sue and Maya at Joe's Shanghai in Chinatown for a dinner of crab-and-pork soup dumplings, and black sea bass in black-bean sauce with pork fried rice. Then it was back to the Slope for dessert: mint-chip gelato at L'Albero Dei Gelati on Fifth Avenue. This place makes some of the most authentic gelato I've had in New York, and they have the craziest flavors like rose-and-rhubarb, eggplant, and arugula. Arugula! How weird is that?
Tuesday, August 12
Special K with 1 percent milk and coffee, a double macchiato from the bakery.
It's opening day at Living Room in Park Hyatt, which is a stunning hotel, in all marble. Every time I go out there I'm like, "Oh, I have to put on a fancy outfit." They're all running around in suits, and I can't just show up in my Brooklyn attire.
Lunch was a Caesar salad with anchovies and chicken Paillard, while sampling quite a few cocktails for quality control. When consulting on hotels, it's always a challenge — how do I say this diplomatically? Let's just say hotels have different ideas about how bars should be set up. This particular bar is gorgeous aesthetically, but it's a challenge because they're looking for fashion — sometimes to the detriment of function. Whereas in my bars, we're set up for war. So it's a lot of massaging back and forth, but at the end of the day, it's my job to make sure their program works.
Dinner was date night at Blue Ribbon Brooklyn: French onion soup, sweet-and-spicy catfish, and a glass of Tempranillo. There was also a martini that happened.
Wednesday, August 13
Coffee and a Fage yogurt and frantically answering Jazz Age emails, trying to get all the liquor orders in. It's a pretty major undertaking, and it all has to happen at a specific time. We're prepping about 18 to 20,000 cocktails for the weekend.
This afternoon, I'm meeting someone to build a new barback prep area in Clover Club. Our kitchen has gotten so busy that we're moving the barbacks out of the kitchen into a different room. They're very excited about it, and I'm excited because I'm going to Nobu tonight with some industry friends. It's going to be delicious.