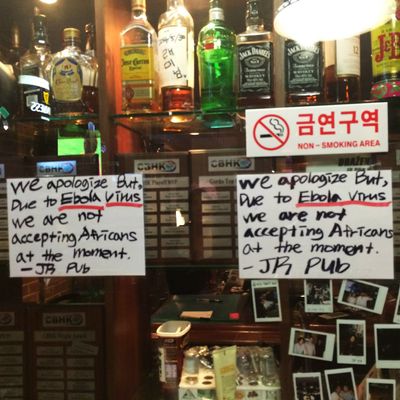 And, uh, no smoking, either.
Photo: Harriet Harriet via HBC/Itaewon Information Board/Facebook
Two identical signs went up over the weekend at JR Pub, an establishment popular with expats in Seoul, South Korea, that barred all of the 1.1 billion people from Africa in the same manner one might announce the ATM is on the fritz. Unsurprisingly, the paper signs prompted a deluge of outrage after someone spotted the ridiculous message and posted a photo to Facebook.
Even as locals and social media users reacted with a near-instant disbelief and anger and the photo went viral, reports emerged that the business was in fact checking customer I.D.s and turning people away, and it emerged that it was the bar's owner, not some careless employee, who posted the sign.
South Korea's response to the Ebola scare has included rescinding the invitations of three Nigerian students and suspending Korea Air flights to Kenya. JR Pub's "no Africans" policy was at least short-lived: Later in the day, the owner posted a revised sign. "I had no intention of being racist and I sincerely apologize," he wrote, along with an acknowledgement that the move was "horribly inappropriate," which is true, and "wildly selfish," which is sort of beside the point.
HBC/Itaewon Information Board [Facebook]
How one bar in Korea tried to prevent Ebola by banning 'Africans' [Chase the Dot]